Niseko is well known for its stunning natural vistas and perfect powder snow but that is not all it has to offer. In our previous articles we let you in on some insider info on the best snowboarding and skiing, introduced you to some of the culinary delights of the area, and gave you a run-down of the various accommodation options open to visitors here. This time though we would like to introduce something a bit different.
As Hokkaido only fully became a part of Japan during the Meiji Period (Late 1800s-early 1900s) it is often described as more "modern" or "newer" in feel, especially in comparison to the more ancient Kyoto and Nara. However, Hokkaido, and especially Niseko, has a much richer history and culture than what is seen on first glance. This can be seen very clearly in the local traditional crafts and in the work of the artists that they have inspired. Also, the world of fine art is very much so prospering in Niseko inspired by local history and abundant natural beauty.
A perfect blend of indigenous Ainu, traditional Japanese, and with a bit of a Western flair here and there, the local craft and art scene of Niseko truly reflects the nature of both Hokkaido and in a further sense the nature of modern Japan. We hope that by the end of this article you too will be inspired by the rich craft culture here in Niseko.
Access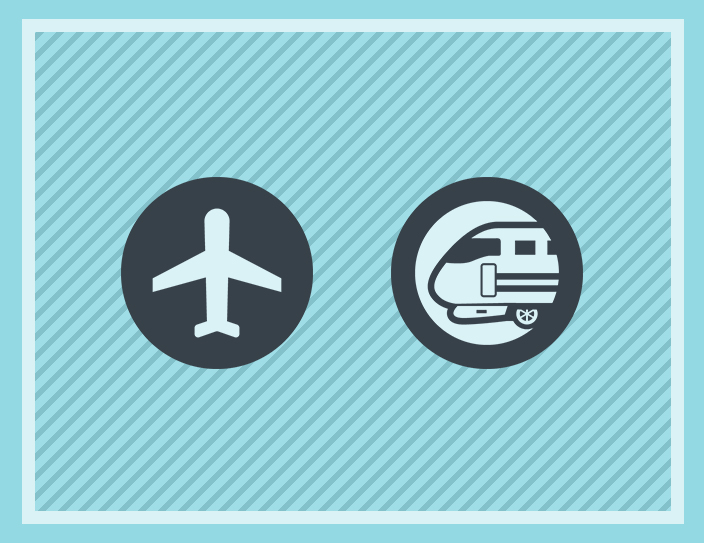 The Niseko area is served internationally by the New Chitose Airport in Sapporo with buses and trains going to and from both. The area itself is served by buses that serve the main resorts and trains and a bus service from the JR Niseko station to the JR Kutchan Station. Also in operation is the Nikoto Bus service which works somewhat like a taxi service. It must be noted that the Nikoto bus service must be booked and can only be done through Japanese. It is suggested you ask the staff at your lodgings for help. There are also taxi services available. Your lodging staff can help you with booking.
Should one have an international driver's license, they can rent a car and enjoy greater freedom of movement.
The crafts of Niseko: A heritage passes down through the ages
Niseko, and in a greater sense Hokkaido, have always had something of a mixed culture. First settled by the indigenous Ainu peoples, their trade with the lands to the south, which would later become Japan, brought the first meeting of cultures. During this time, the Ainu and Japanese cultures began to blend together in the region. Afterward, the rapid industrialisation and modernisation of the nation during the Meiji Period brought with it a much more Western influence, one which can still be felt today. This cultural mixing truly showed itself in the talents of the local craftsmen leading to some rather unique and surprising crafts to spring up.
Of course the most iconic crafts of the region would be the traditional Ainu crafts. In particular, the Ainu embroidered "Attus" fabrics (made from elm bark), with their distinctive patterns and designs, are quite stunning. The bark is stripped from the tree, dyed and then carefully woven to age old traditions with each design element having its own unique meaning and significance.
Another excellent example of Ainu heritage is that of the traditional wood carved "Ita" trays. These beautiful works of art feature intricate hard-carved spiral and fish-scale patterns unique to the Ainu people and passed down through generations. Either of these items would make a brilliant souvenir of your trip allowing you to bring a little bit of Hokkaido's history home with you.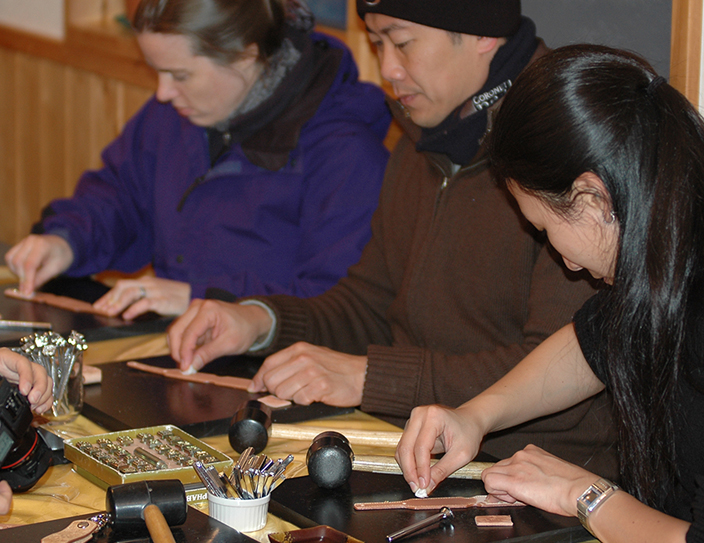 Leather-working is also popular in the area with many small craft studios allowing guests to experience the craft first-hand. The most popular items include embossed phone-covers, phone-straps, and accessories. A hand-made phone-strap or accessory, made with love and care, would be the perfect gift for a loved one and is sure to be treasured for many years to come.
Although not surprising to many, metallurgy is also one of the many crafts undertaken here in Niseko. Though quite unlike the iconic Katana blades, meticulously forged for weeks on end Niseko's metallurgical traditions had more humble origins. Due to the heavy snowfall, wooden structures would be more likely to experience rotting, metal on the other hand was able to withstand the bitter winters more easily. Thus in the shrines around Niseko the graceful wooden Torii gates are replaced by strong metal ones reflecting the nature of the area itself. Though that is not to say that all metal working here had purely pragmatic applications. Turning their honed skills to a more artistic direction, beautiful and stylish pieces of art have been made. Look no further than Niseko's very own main street "Kira Kaidou", where each shop-front has their own unique metal sign reflecting their business, and you will see for yourself.
Another slightly surprising, but beautiful, craft would be that of glass-etching and stained glass. Though more associated with Europe, Niseko has set itself apart with the sheer beauty of its glass artisan's works. Though it started as a simple maritime necessity with glass buoys, through the creativity and skill of master artisans it has been given new life. Seamlessly blending a Western art with Japanese sensibilities, as only the Japanese know how, beautiful and delicate works of art are the result, which rival even that of Europe.
The Niseko Craft Experience: Making lasting memories of your trip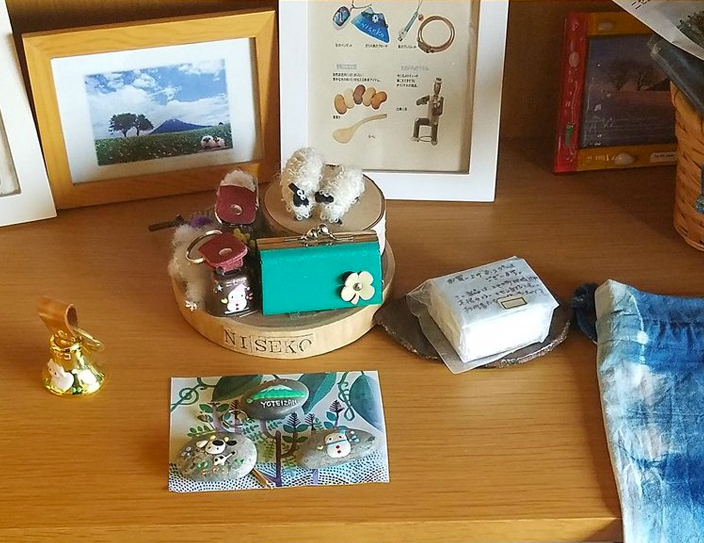 We are certain after hearing about all these wonderful crafts; you all are itching to try your hand at them yourselves. Well, do not fear as there are plenty of chances for you to get stuck in.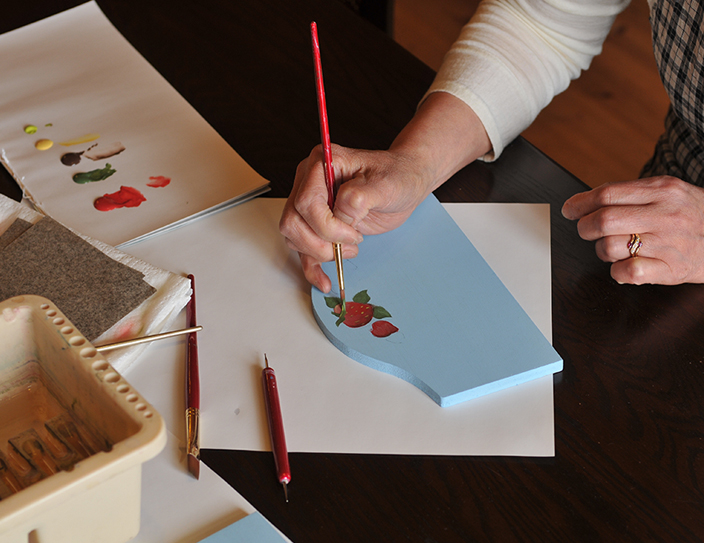 The first to introduce is the Niseko Outdoor Center, located in the Soga-Higashiyama area, which offers a wide range of craft activities to keep you busy. The most popular craft classes on offer are the accessory classes where you are able to make bracelets and other accessories out of hemp. Another popular class is wood-art, where you can make small sculptures out of wood or even your own personalised name plate. Though be warned that these classes only run during the summer season. However, do not despair as glass etching and candle making classes are held throughout the year.
Next is the Niseko Saison Club. During the summer season, from May to October, various unique crafting classes are on offer. The first is a silver working class which allows you to make your own silver jewellery. Also, on offer are glass etching classes, where you can etch a design of your choice on a glass dish, and scented candle making classes. Any of these beautiful handmade works would make perfect gifts for an anniversary or birthday. Even better, you could even gift the experience itself.
Following that is Niseko no Kaze in Niseko Milk Kobou, located in the Higashiyama area. Quite popular with young people, this little studio and shop offers visitors a chance to try their hand at making accessories, such as phone straps, bracelets and necklaces, as well as sun-catchers out of glass. The most popular class is glass bead making which teaches you how to make your own small glass bead which you can attach to a bracelet or phone charm.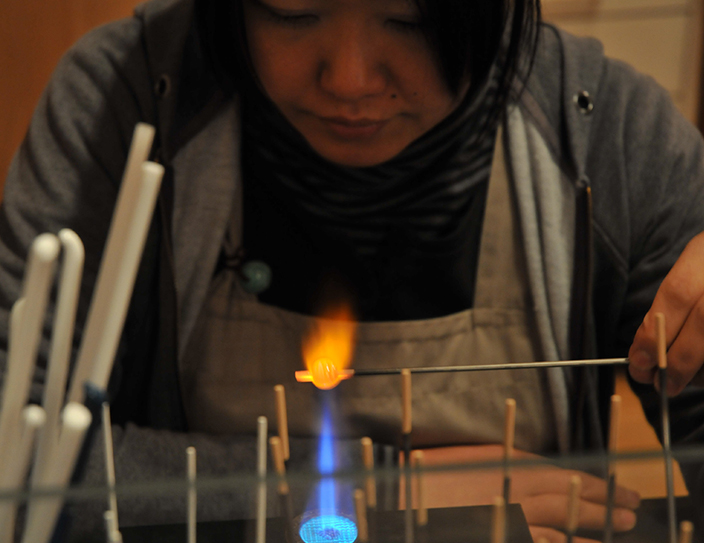 Also on offer is the Café FanFun in the Soga-Higashiyama area. This little café offers leather working classes throughout the year. In the class you can choose from a plethora of items to make including phone-cases, bracelets, phone straps, purses, key-holders. You can emboss and decorate your piece any way you like for a truly personalised item.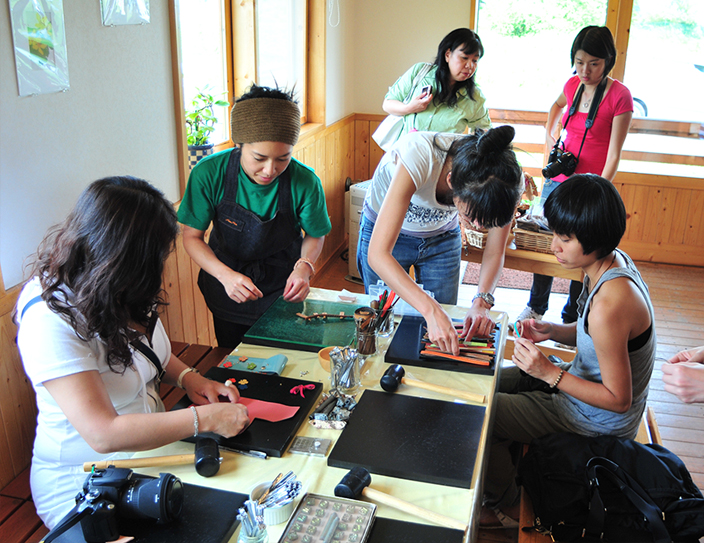 Last, but certainly not least, is the Glass Gallery Doumu in the Higashiyama area. This glass studio specialises in sand-blasted pieces. The beautifully vivid colours mixed with the frosty whiteness of the sand-blasting gives a fascinating result. If you want to try your hand at it you can be taught by a master to make your own sand-blasted piece. You can even bring your own glass to personalise which would be a great way to commemorate a trip to Niseko.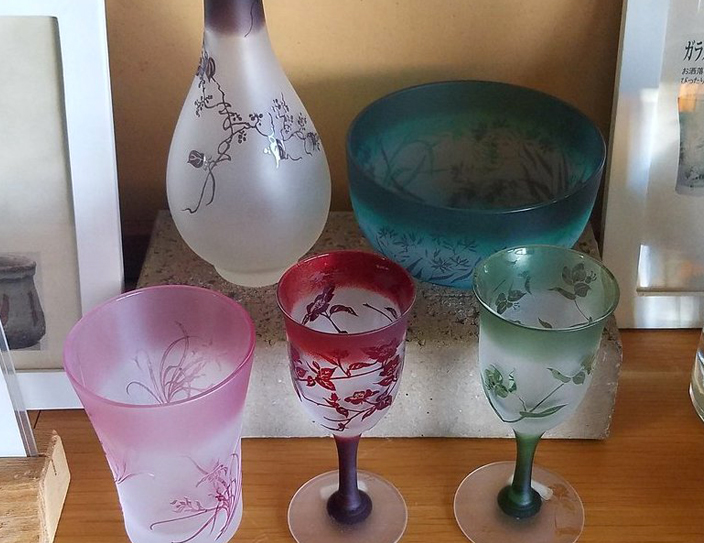 For those who are maybe not as artistically minded do not fret. In the Niseko View Plaza road station there is a full selection of craft items like the ones listed above. You can even say you made them yourself, we won't tell.
The Art World of Niseko: Blending local traditions and high culture
With the strong and proud craft history here in Niseko it is no wonder that a vibrant art scene would develop. Inspired by the long-held traditions and natural beauty of the region fine works of art, which serve in daily life also, are common here.
First on our little tour would be the Glass Gallery Doumu, mentioned earlier. Located in the Higashiyama area, this little studio creates beautiful works of art through the medium of glass. Marrying form and function seamlessly these delicate pieces give a certain air of refined beauty to them when on display but truly shine when in use.
Next is the Ram Studio, located in the Soga, Higashiyama area. Run by two artisans, Masafumi Sawada, who specialises in sculpture, and Ai Sawada in jewellery, woodwork and metallurgy are blended beautifully. The sculptures give a strong and earthy feel and can be seen around Niseko town, from the sculpture sitting in front of the old storehouses near the station, to the shop fronts of Kira Kaido (the main street of Niseko) each having their own unique sign. The jewellery pieces have a refined and delicate feel and would suit any style.
Finally is the work and gallery of lithographer Makoto Fukawa. The gallery itself is located in Goshiki and holds exhibitions of Mr. Fukawa's work. Inspired by the beautiful vistas of the Annupuri range and the dominating Mt. Yotei as well as the natural world around him, his works have an enduring appeal.
If you are unable to get to any of the studios on your trip do not worry as there are often art and culture events being held around the town showcasing local talent from the region.
Conclusion
As you can see, there is a wealth of culture here for you to experience. From the local crafts made and passed down for generations, to delicate pieces of art blending both form and function, you are sure to have an enriching experience.
In this article, I have attempted to give you a small glimpse into the vibrant world of the art and craft world of Niseko. However, even I must admit that, with the sure dynamism of the scene here, there are probably so many wonderfully talented artists I have not listed. Even still though, I hope that it has inspired you all in some small way.
Through our small lecture series we have attempted to show you some of the many wonders of Niseko. Though we have come to the end, we hope that we have sparked excitement and wonder in you all for this truly unique region.
We look forward to seeing you all soon.