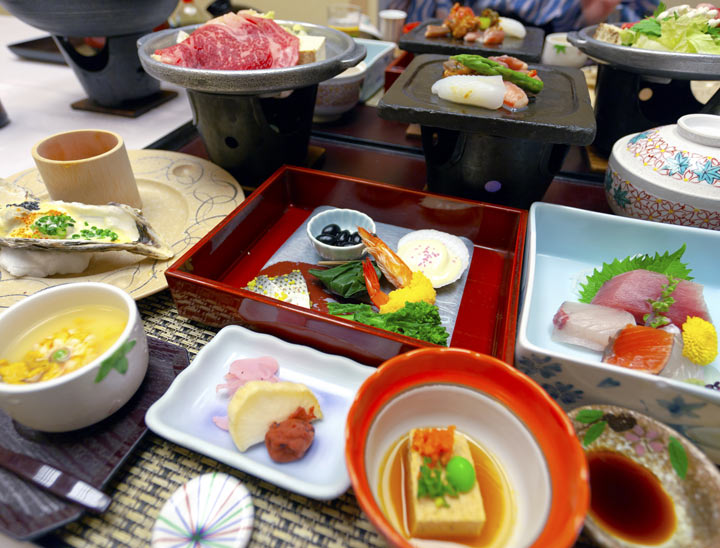 Sushi, Sashimi and Tempura are the most well-known Japanese foods in the world, but there are more kinds of Japanese cuisine to try. Here is the tip for tasting Japan. Tasting a local cuisine is a must when you travel abroad. Each prefecture and/or city usually has their own speciality dishes. Japanese cuisines are renowned for its fresh seasonal ingredients and artistic colorful decoration. Each region has a special dish which uses local fresh ingredients. In Hokkaido, best to try fresh sashimi and crab (eating seafood here is much cheaper than the price in Tokyo). In Osaka, you must try a famous local cuisine, such as Okonomiyaki and Takoyaki.
Sushi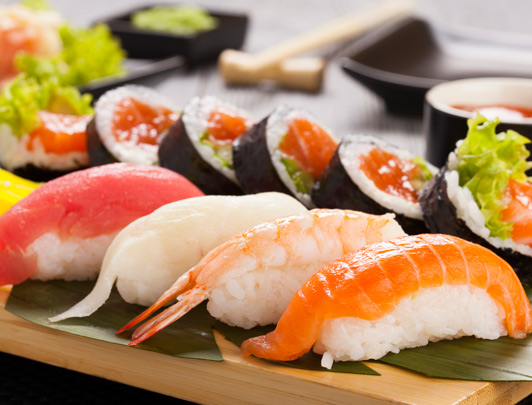 Sushi must be the most famous Japanese dish overseas, and also one of the popular dishes among the Japanese themselves. Dining at a sushi restaurant used to be only on special occasions as it is quite expensive. But recently, it is becoming easier to enjoy sushi since the introduction of the conveyer-belt sushi shop (kaiten sushi). Some of the most popular kinds of sushi are; Maguro (tuna), Toro (fatty tuna), Hamachi (yellowtail), Hirame (flatfish) Uni (sea urchin roe), Ebi (prawn) and Ika (squid).
Tempura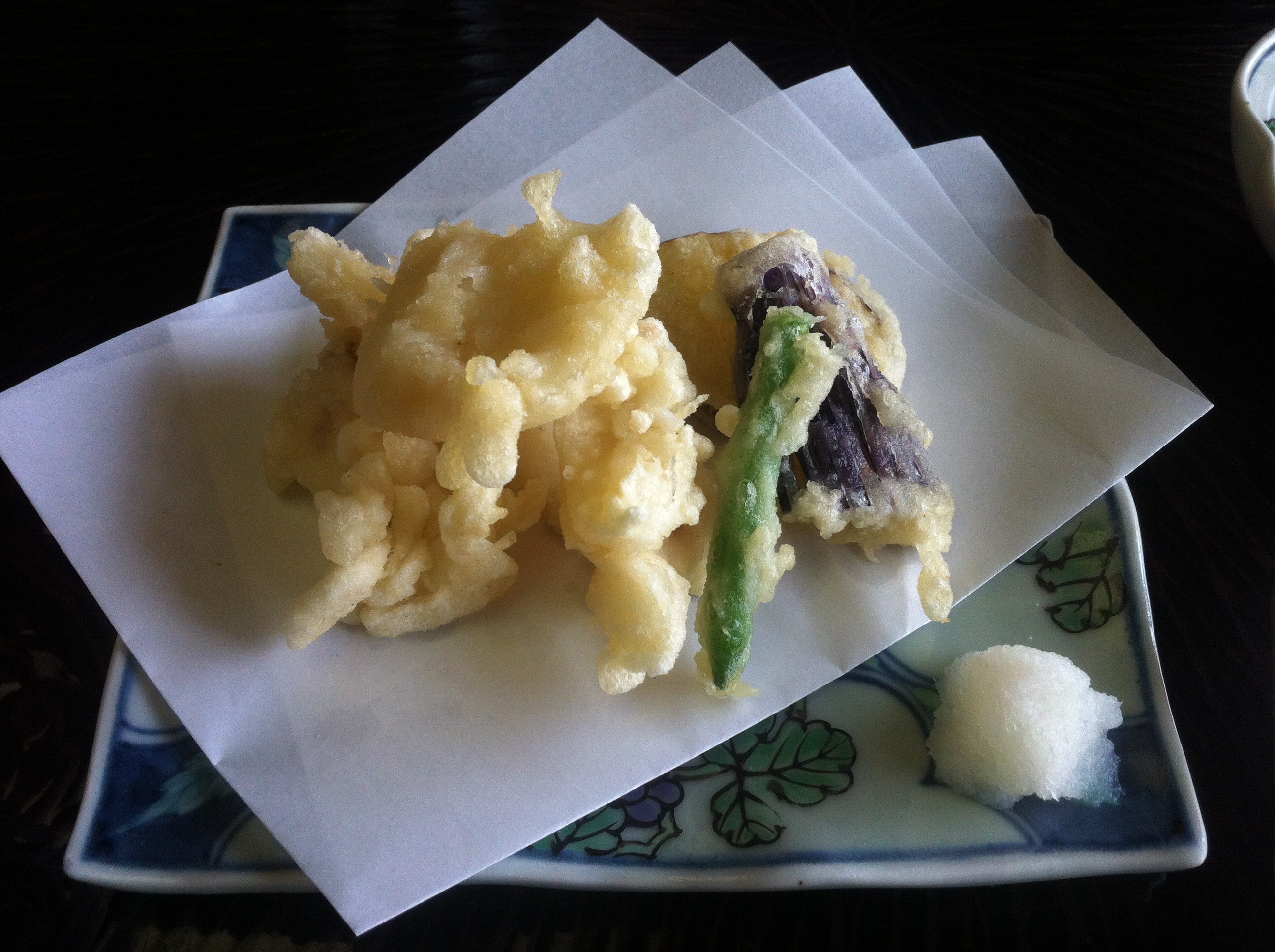 Tempura is also one of the famous Japanese foods out of Japan. This is quite a simple dish of seafood and vegetables dipped in tempura batter and then deep fried. Some popular tempura menus are; Ebi (shrimp), Kisu (fish, kind of flat fish), Anago (sea eel), Nasubi (aubergine), Kabocha (pumpkin), Shiitake (mushroom) and Renkon (lotus root). It can simply be eaten with salt or dipped Tentsuyu (light brown, soy sauce based).
Yakitori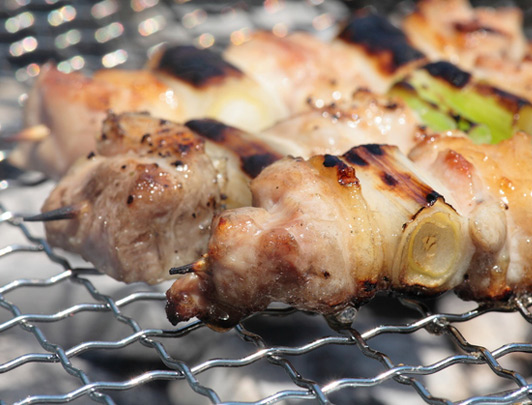 Yakitori is skewers of barbecued chicken. Almost every part of chicken, even skin, liver and cartilage can be used for yakitori. As with most Japanese dishes it is seasoned simply with Shio (salt) or Tare (sweet soy sauce). Yakitori shops and Izakaya are a popular place to have a quick drink and bite after a long day at work.
Onigiri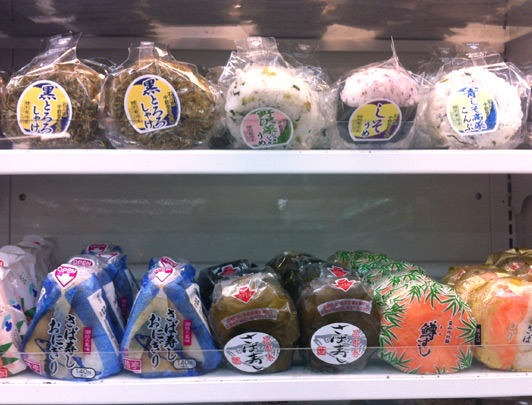 Onigiri is a rice ball made of cooked rice and normally wrapped with seaweed. There are plenty kinds of onigiri, usually with some ingredients inside, such as umeboshi (pickled plum), tarako (cod roe), shake (grilled salmon) and tuna mayo (tuna with mayonnaise). Onigiri is a popular and inexpensive (100 Yen~) casual snack available at convenienc stores.
DON (Don Buri)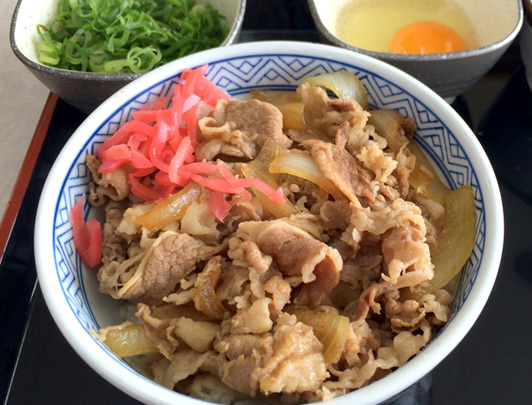 A very popular Japanese dish bowl of rice topped with other food. Most of them are quite reasonable in price. Some of the common toppings are egg and chicken (OYAKO-DON), deep fried pork (KATSU-DON), stewed beef and onion (GYU-DON), tempura (TEN-DON), grilled eel (UNA-DON) and many more. If you are in Hokkaido (northern island, famous for fresh seafood) or near the sea market, please try the one with topped sashimi such as TEKKA-DON (tuna), IKURA-DON (salmon roe), UNI-DON (sea urchin roe), and one topped with various kinds of sashimi, KAISEN-DON.
Noodle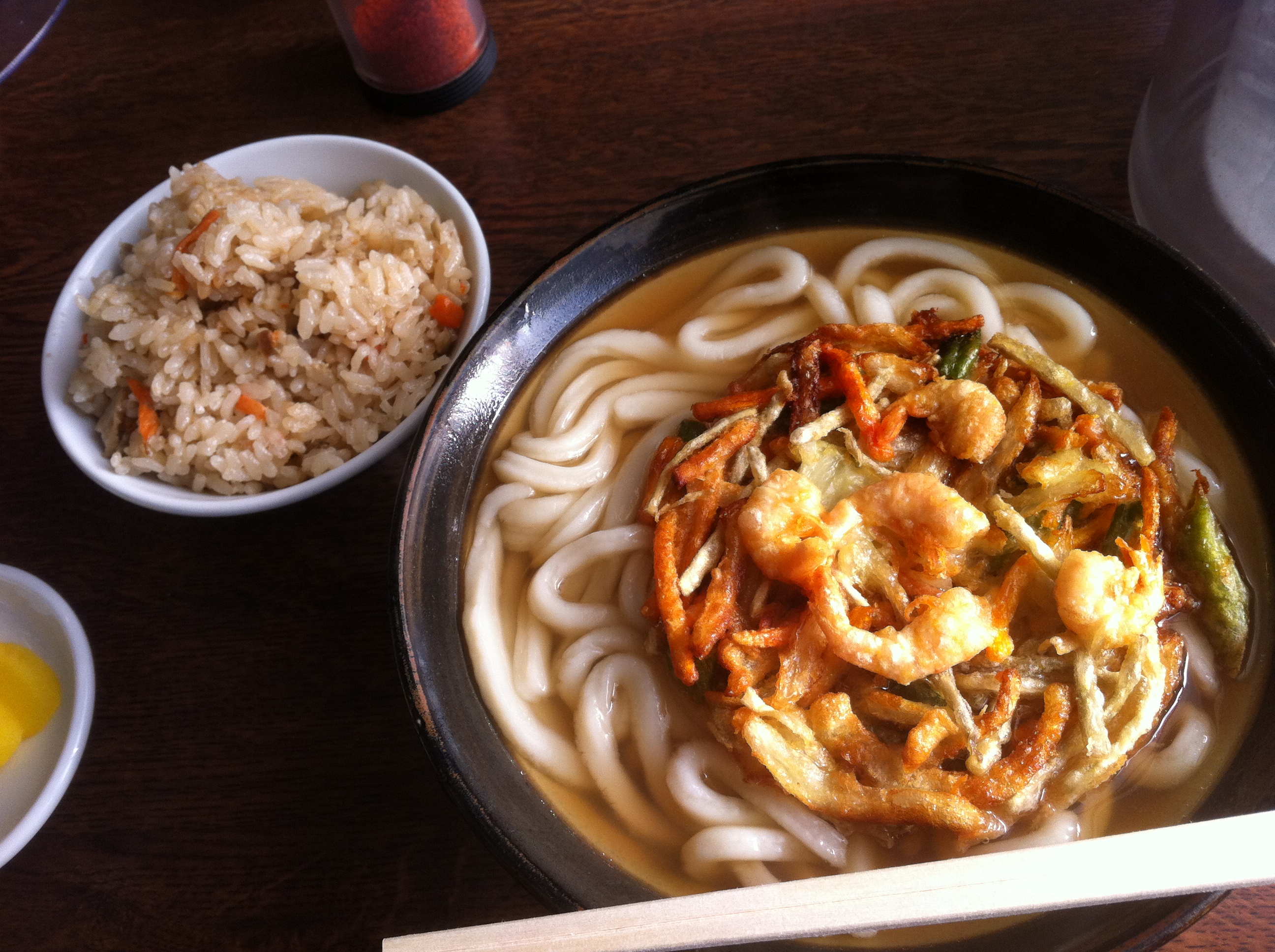 In Japan you will find loads of Udon, Soba and Ramen shops. Udon (soft white round noodle), is a traditional Japanese noodle made by wheat. Another traditional noodle is Soba (soft grey round noodle) made of buckwheat and wheat. Both of them are served in similar ways, in hot broth (soy sauce based) with some topping. But Soba can also be served chilled with a dipping sauce, called Zaru-Soba. At night on the 31st December, the Japanese have a custom eating Soba for wishing to have a good New Year.
Ramen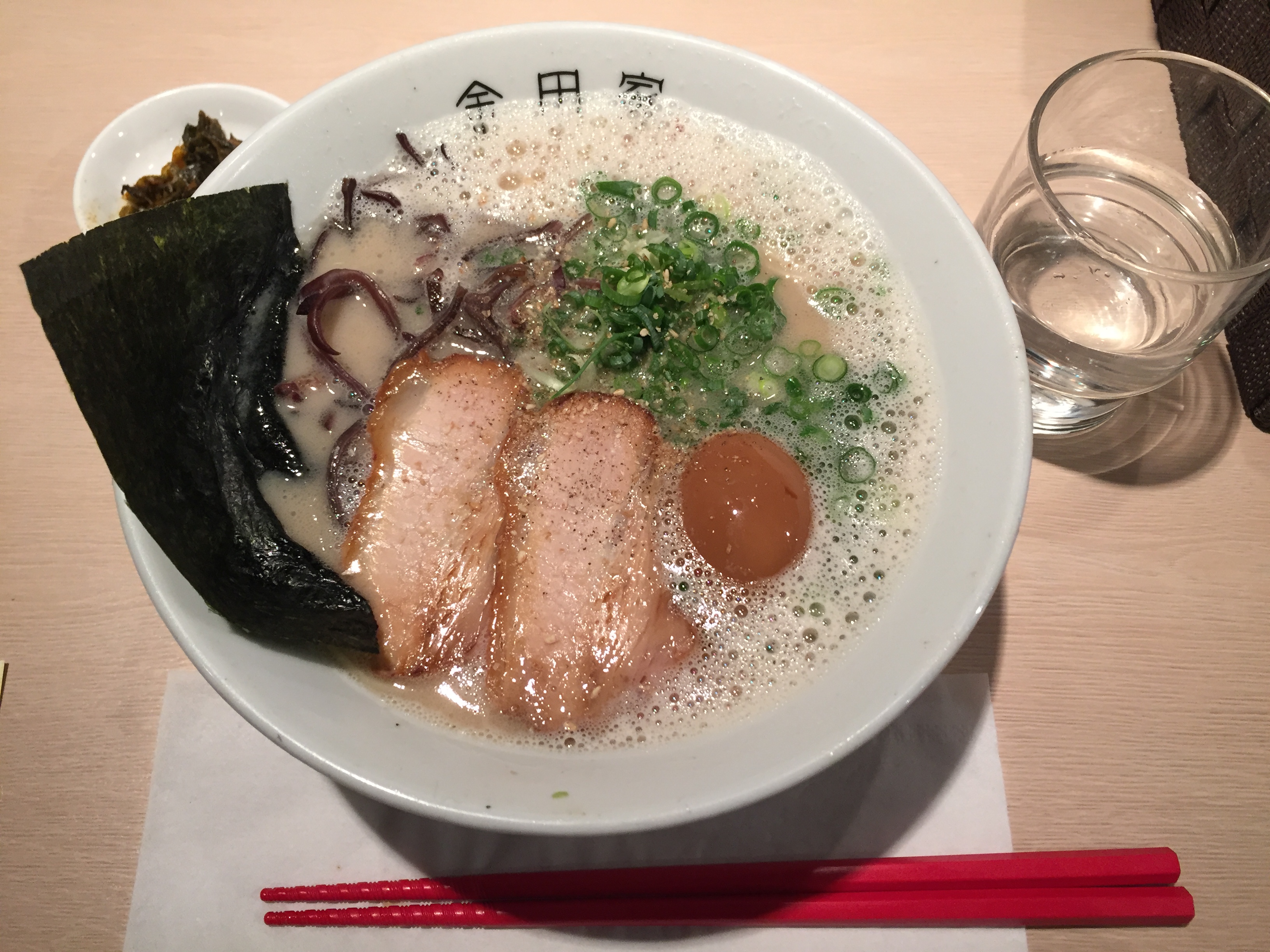 Ramen is originally from china, but now it became one of the typical Japanese dishes. Ramen noodle is as thin as spaghetti and served with a variety of toppings in a hot soup. The popular ramen soups are:
Tonkotsu Ramen: White, milky, pork bone based
Shoyu Ramen: Brown, soya sauce based
Miso Ramen: Brown, miso based
Shio Ramen: salt based
Nabe (Stewed dishes)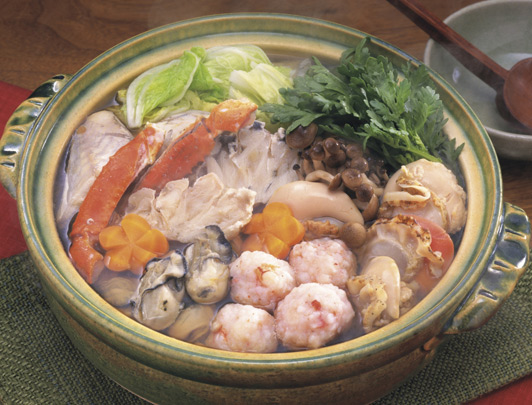 The Japanese love having Nabe dishes especially in winter time. It is a one-pot dish cooked and served at the table.
Sukiyaki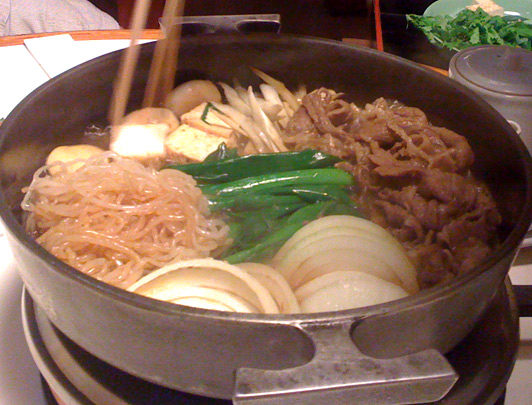 Thinly sliced beef cooked in a soy sauce, sugar and sake based broth along with vegetables, tofu and shirataki (konnyaku noodles). You will eat them with raw egg dipping.
Shabu Shabu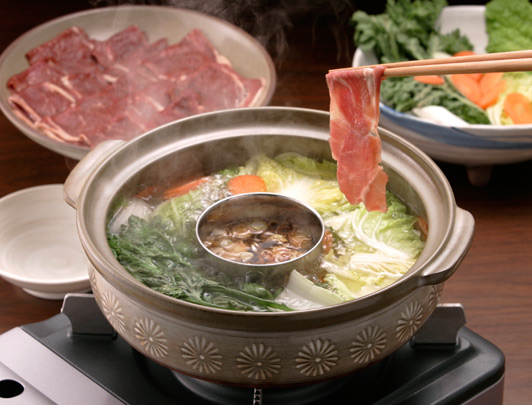 Thinly sliced meat (beef or sometimes pork) cooked in a hot broth with many kinds of vegetables and tofu. The food is then dipped in some sauces (soy sauce and vinegar or sesame pasted sauce).
Motsu Nabe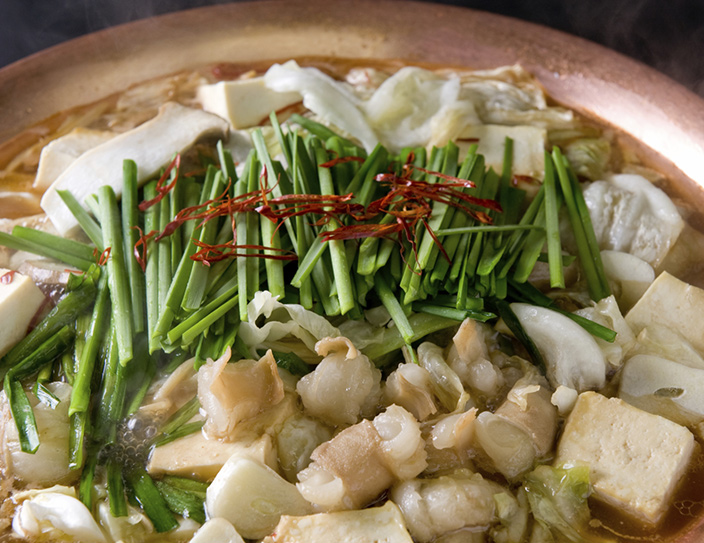 Fukuoka's famous local specialty. (Beef offal hot pot), there are various type of flavours, such as soy source, Miso and shio (salt). At the end normally add champon noodle to finish it.
Oden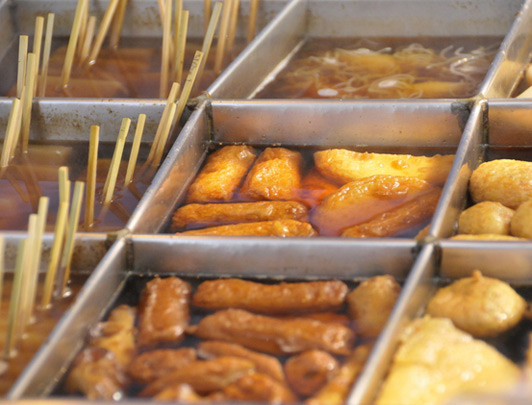 kind of hodgepodge dish. Put Daikon (Japanese radish), Tamago (egg), Konnyaku (jelly-like yam), Hampen (fish cake), and Ganmodogi (fried tofu and vegetable cake) into soy sauce and konbu (seaweed) based broth and then cooked for several hours. In winter time at convenience stores, you can buy it from only 100 Yen for one piece. Of course you can taste it at restaurant as well.
Okonomiyaki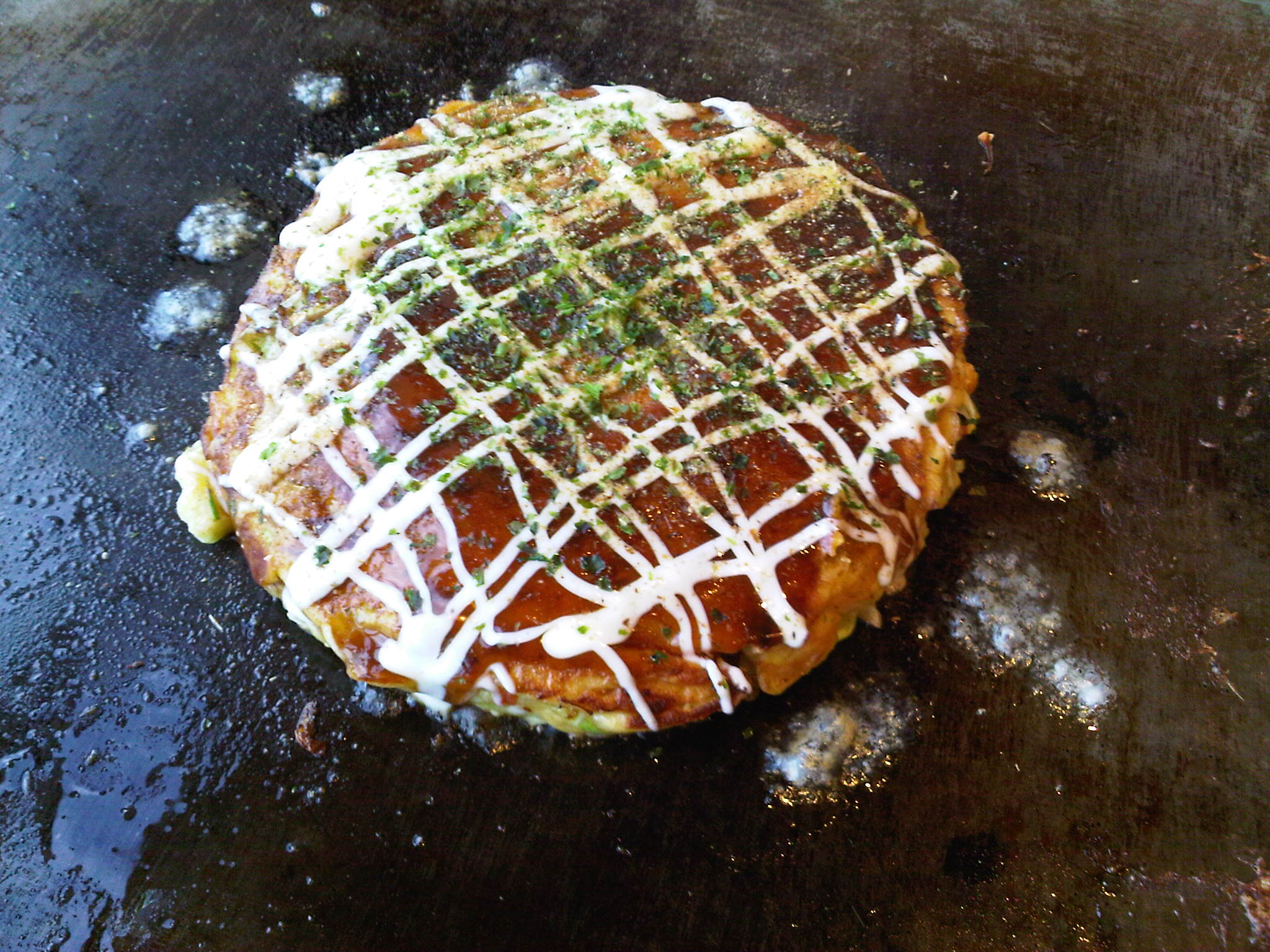 Okonomiyaki is a Japanese style meat (or seafood) and vegetable pancake. Mixed ingredients (cabbage, sliced pork, squid and egg) in one bowl, then stir up, and cooked on the Teppan (iron hot plate) normally set at your table. Most of the customers cook Okonomiyaki at their table by themselves, but if you don't know how to cook, of course staff is happy to help you. Okonomiyaki restaurant is fun place to eat. You will then have very local unique eating experience.
Wagashi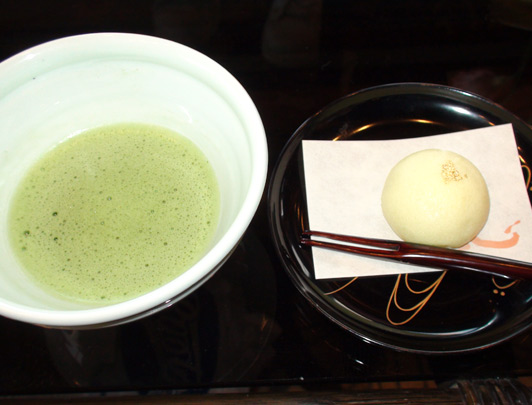 Wagashi is a traditional Japanese sweet, usually served at the tea ceremony before drinking matcha (powder green tea). You can buy them at department stores or even at convenience stores. Most wagashi are made of red beans, rice flour and sugar. It looks exquisitely beautiful and also tasty.
Sake (Nihon shu)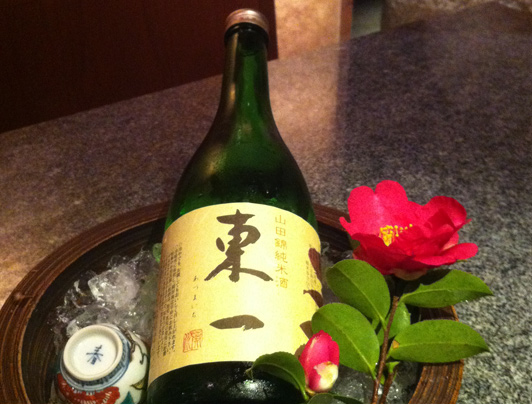 Sake is a Japanese rice wine, alcohol content is about 15~20%. The combination of Sake and Japanese cuisine are absolutely superb, you can enjoy it hot (atsu-kan) or chilled.
Shochu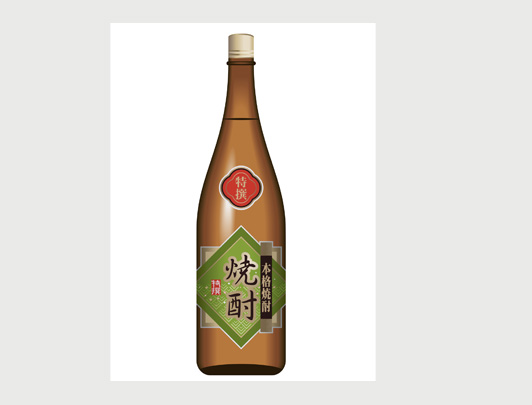 Shochu is a distilled spirit with high alcohol content (20~50%) made from rice, wheat, sweet potatoes. It is popular to mix Shochu with hot or chilled water, coke and oolong-tea.
Tea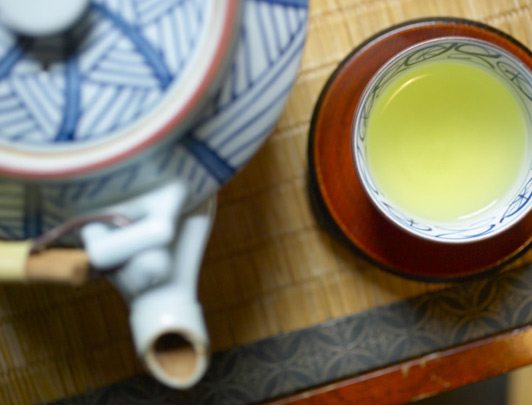 Japanese people drink tea every day and at any time. It is never served with sugar, milk or cream. Macha (bitter green tea made of tea leaf powder) is a special kind of tea served in the traditional tea ceremonies, but seldom drank at home. When you enter a restaurant, staff will welcome you with the word of "irasshaimase" ("welcome, please come in"). The staff is outrageously attentive; they will immediately lead you to your table. Then, a glass of water or tea will be served for free and later refilled. You may also receive a wet towel for cleaning your hands and chopsticks will be set for you or you can find some in a box on the table. Mostly, they are wooden chopsticks that need to be separated into two before usage. The way of paying the bill is different than here in the UK. In most restaurants, you will pay at the cashier near the exit after you have finished dining. It is not necessary to pay a tip. But some restaurants, especially cheaper ones, have different systems for ordering and paying. At some restaurants, you might be required to pay right away after you have ordered or you need to buy meal tickets at a vending machine (mostly set near the entrance) and hand them to the staff for ordering your meal.
Izakaya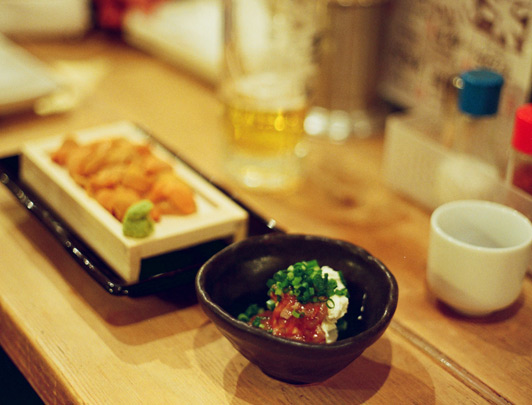 Izakaya is Japanese style casual pub with a variety of food and drinks at reasonable prices. They serve most main types of Japanese food. There are food photos on the menu, so that will make it easy to order. Some Izakaya automatically serve you a small bowl of appetizer that is normally added to your bill.
Family Restaurant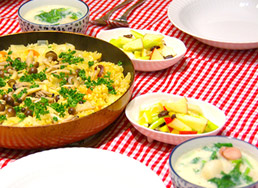 Family restaurants (famiresu) offer a variety of Western, Chinese and Japanese dishes in a casual atmosphere at a reasonable price. The big chains of family restaurants usually open for 24 hours.
Fast Food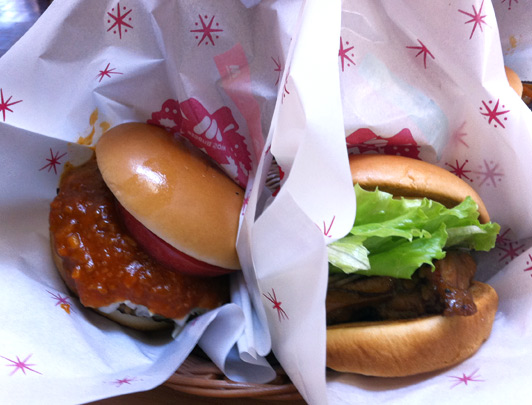 There are many hamburger fast food shops all over Japan. They include major American chain stores, McDonald's and KFC, but also various Japanese chain stores like Mos Burger.
Teishoku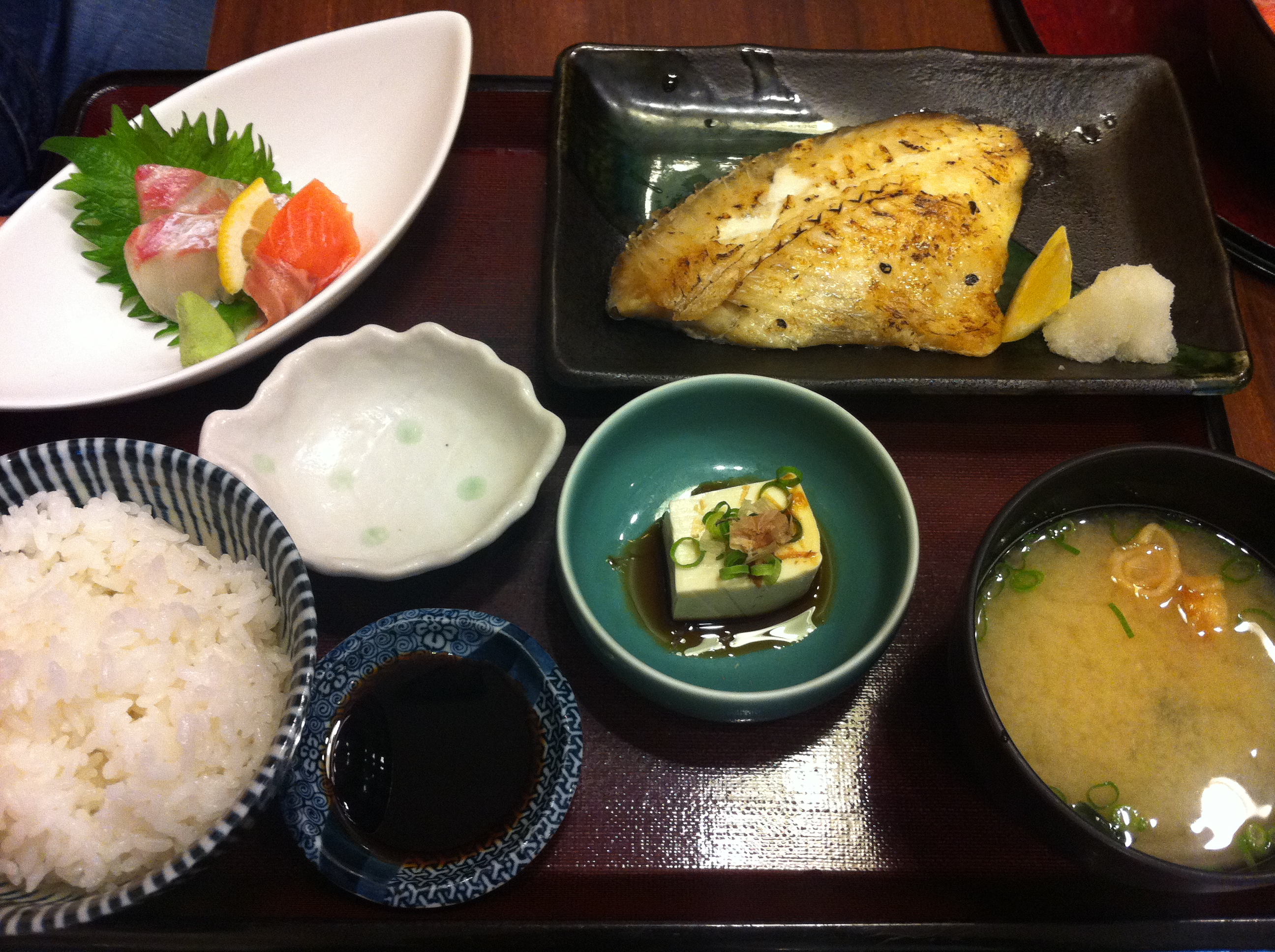 Teishoku is a set menu that usually serves a main dish of meat or fish with rice, miso soup and tsukemono (pickled vegetables). Popular main dishes are sashimi, yakizakana (grilled fish), karaage (fried chicken), tonkatsu (breaded pork cutlet), and Tempura (deep fried seafood and vegetable). The price range is from 500 yen to 1,500 yen. The restaurants open till late, but the teishoku menu is popular during lunch time.
Kaiseki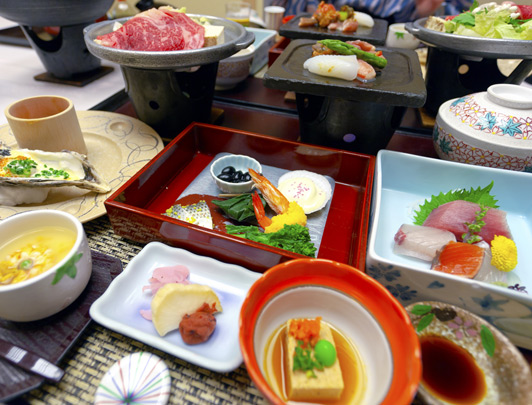 Kaiseiki is a highly refined full-course meal style of Japanese traditional seasonal delicacies. They use each season's fresh ingredients and is cooked carefully not to spoil the original taste of the ingredients. All the dishes is simply seasoned and presented beautifully in elaborately selected dinner ware for each dish.
Tips
Paying a tip is not customary and would most likely be refused. Japanese service is legendary, and you do not need to bribe the waiters/waitresses to do their job properly. Some restaurants will however add a 10% service charge. Most family restaurants that are open late or 24 hours will also add a 10% late-night charge. And be sure to call out 'sumimasen' (excuse me) when you are ready to order.