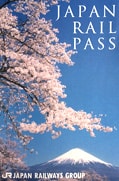 A Japan Rail Pass is a special ticket available only for those travellers visiting Japan from abroad as tourists. The pass offers unlimited travel on trains operated by Japan Railways Group throughout Japan. The Japan Rail Pass is only available outside of Japan so remember to buy one before you travel!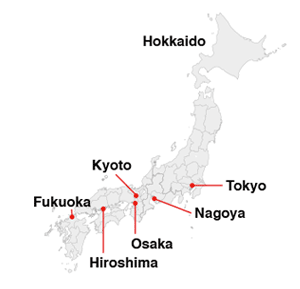 The main Japan Rail Pass allows unlimited travel on trains operated by Japan Railways (JR) Group throughout the country including "Shinkansen", Bullet Train (Excluding Nozomi and Mizuho trains). This main JR Pass gives you the freedom to explore Japan with no area restriction. A regular round-trip ticket from Tokyo to Osaka costs around 30,000 yen.

Tokyo Tower
Tokyo Pref.

Kinkaku-ji
Kyoto Pref.

Osaka Castle
Osaka Pref.
Type
Ordinary
Green Car
(1st Class)
Duration
Adult
Child
Adult
Child
7-day
£196
£100
£262
£133
14-day
£312
£159
£424
£216
21-day
£400
£204
£551
£281
*Above are our Best Prices, applied to online Orders only.
*Main JR Pass Price
*The main Japan Rail Pass is most popular pass and it's valid throughout Japan, but if you visit only one region in Japan, a Regional JR Pass may offer a better option.
Notice
* Please note that during the peak season (Christmas & New year, Golden week: end of April to early May and Obon season: mid August) you cannot be guaranteed a seat on a specific train.
If you want to secure the seat we can arrange the train ticket (not the Japan Rail Pass) before you leave your country.
If you would like to purchase a bullet train ticket please send us the enquiry.
Who is Eligible for a Japan Rail Pass?
Condition 1

If you are a tourist visiting Japan you can enter as a "Temporary Visitor".

("Temporary Visitor" entry status, according to Japanese Immigration Law, allows a stay in Japan of 15 or 90 days for the purpose of "sight-seeing".) If you apply for "stay for sight-seeing" when you enter, your passport will be stamped "Temporary Visitor". Only persons who have a passport bearing this stamp can use a Japan Rail Pass.
Condition 2

You are a Japanese national living in a foreign country who is:

a) Qualified to live permanently in a foreign country or
b) Married to a non-Japanese residing in a country other than Japan.

Note 1: Valid until 31March 2017 only.
Note 2: Persons meeting the criteria for point 2 above will be required to show proof of eligibility when purchasing and activating a JR Pass.

Caution!

Even if an applicant presents electronic data or other documentation establishing their compliance with conditions a) and b) above, the pass may still be denied if compliance cannot be verified. Similarly, applicants with dual nationality will not be able to use their Exchange Order for a PASS if they have entered Japan on a Japanese passport.
How Do I Use a Japan Rail Pass?
Using a Japan Rail Pass is easy. Once we issue you with a JR Pass exchange order, it can be exchanged at any major Japan Rail stations for your official pass, provided you have 'visitor visa' stamped in your passport. Depending on the ticket purchased, the pass holder can travel as much as they wish for 7, 14 or 21 consecutive days.

How Do We Deliver?

We deliver all our Japan Rail Passes with Royal Mail Guaranteed Special Delivery which includes insurance for up to £1000. We can deliver anywhere in the world using a variety of different delivery methods, so no matter where you are, you can get your JR pass.
If you order online before 13:00 (Mon- Fri), your pass will be ready for collection the same day after 14:00pm. Please note that any orders made on Friday after 13:00 or on public holidays may take longer to process.
Collection at Japan Travel Centre, London Office
6 Southampton Place, London WC1A 2DB United Kingdom
TEL: 020 7611 0150
Which Japan Rail Pass Shall I Get?
The Japan Rail Pass comes in different varieties depending on the region you plan to use it in. The main Japan Rail Pass is most popular pass and it's valid throughout Japan, but if you visit only one region in Japan, a regional pass may offer a better option. Check the list to see all the different regions that the Japan Rail Pass is available for and find out which pass works best for your travel plan! If you haven't found what you are looking for, please contact us.