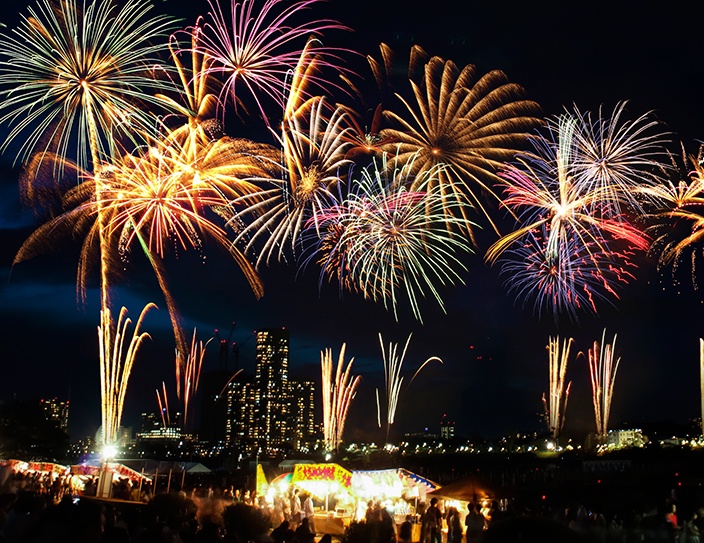 It's a pleasure to meet you here and I hope I can answer some of your questions regarding the best time to visit Japan. Today, I'll review each season, starting with winter and ending with autumn, looking at popular events and activities as well as advising potential travelers on ways to avoid crowds, what to wear and do on sunny or rainy days, variations in climate and weather, and much more. So let's go on a virtual tour of one of the best places to travel to, Japan!

Winter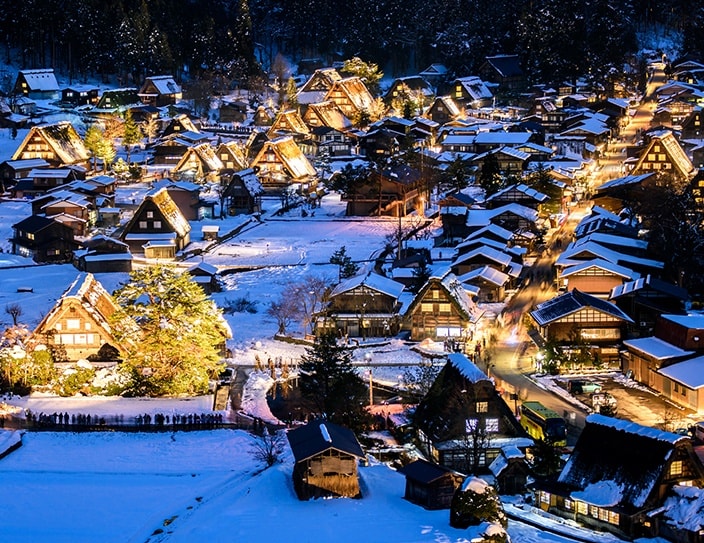 Climate and Temperature
In winter, average temperatures throughout Japan fluctuate between 0 and 15 degrees Celsius, or 32 and 59 Fahrenheit. Check the local averages for your destinations to decide whether you need to pack a coat, hat, gloves and scarf. Daytime can be sunny and mild, especially in Kyushu where I live, but night comes early and it gets cold quickly. One travel tip I can give is to pack thick socks for freezing temple and shrine floors, and another tip for your visit is to bring good, sturdy walking shoes or boots that can be easily removed. A portable umbrella is also wise for the rainy days that sometimes occur. These can be purchased here and taken home as a souvenir of Japan!
December: Time for Christmas, Snow and Onsen!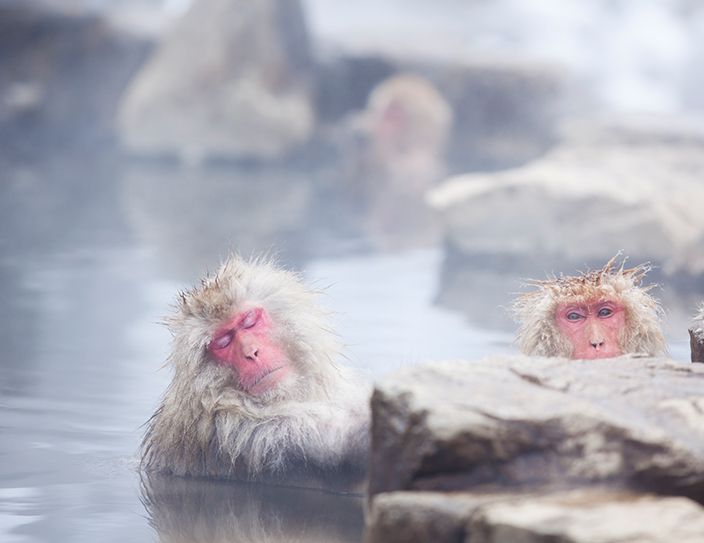 In December, ski slopes open in Central Japan, and along with Hokkaido to the north, the slopes stay open until April. Book early for best availability, as they tend to fill up from mid-December through mid-February, especially on long weekends or holidays. After a run down the slopes, many people enjoy a soak in the hot springs, known locally as "onsen". If you've never tried one, now is the season to do so! Just remember to remove your clothing and wash your body thoroughly before entering the public (usually single-sex) bath, and cover any tattoos you may have with a bandage, as they are mistaken as being gang (Yakuza) affiliated. Children over age 5 join the same-sex parent.
January: Time for Oshogatsu, the Japanese New Year!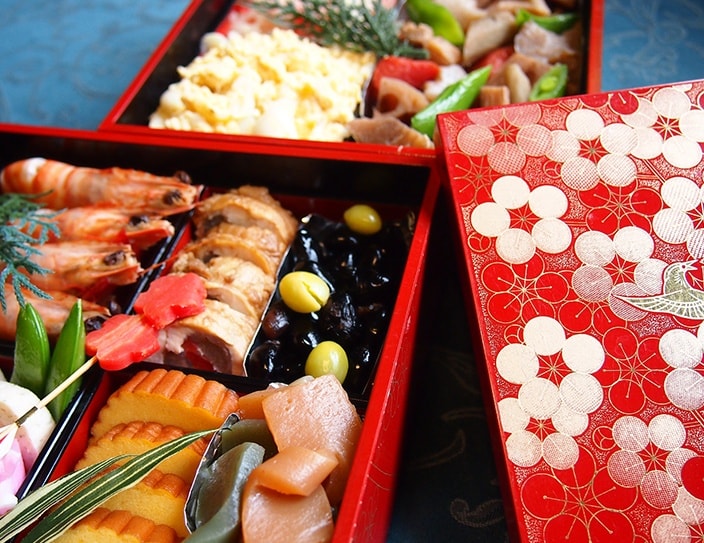 Ring in the New Year, Japanese Style!
A truly magical time of year starts on December 31, when temple bells toll 108 times to drive out the evils of the past and ring in the New Year. Shrines all over Japan welcome visitors from near and far, often at midnight, with cups of warm sake to ward off the chill and good fortunes for the future! In my neighborhood, the local middle school students put on a play called "Yokagura", which recounts the myth of Amaterasu-no-Mikami, the Sun Goddess, being coaxed out of her cave. This ancient play is also performed in Takachiho, northern Miyazaki prefecture, on the eastern side of Kyushu.
Osechi Ryori, the first dishes of the New Year
After returning home, I usually sleep through the first sunrise of the year, which other hardy souls wake up for, then enjoy a breakfast of Osechi Ryori, the New Year's dishes that are prepared before the 31st. Often served in a stacked lacquered box, each of these cold delicacies carry some symbolism for peace and prosperity. Many sushi shops, restaurants and ryokans serve them, too, along with Otoso (herb-infused sake) and Ozoni (clear fish soup).
Open or closed?
At this time of year, all Shinto shrines and many Buddhist temples welcome large volumes of visitors, so one travel tip is to arrive early in the morning or you may choose to visit these destinations, especially the more popular ones, after January 3rd. Another tip is to check the Websites for museums and any other travel destinations you have in mind, as they are often closed from 12/29 to 1/3. However, many shopping malls are open for business from 1/2, and the above-mentioned onsen are usually open throughout the holidays.
February: Time to Run Away from Beans Thrown in the Snow!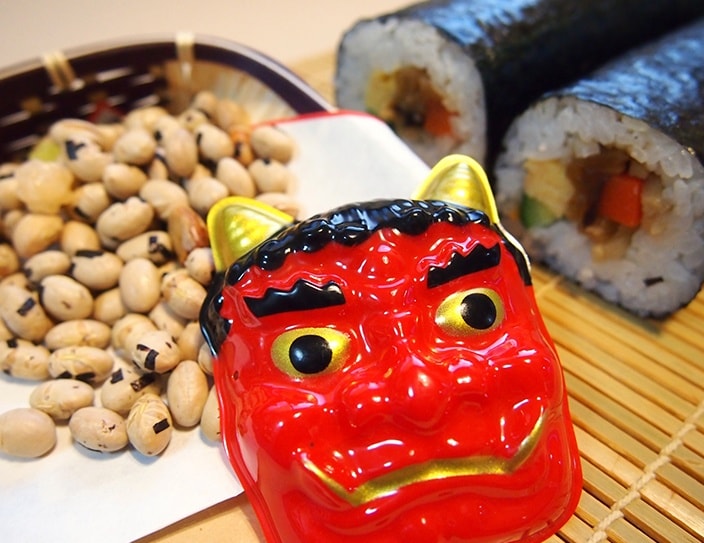 Setsubun, the Bean-Throwing Event
February, often known as the coldest month of the year here in Japan, is an ideal time to enjoy onsen, snow sports and three other seasonal delights: Setsubun, Sapporo Snow Festival, and the famous Tokyo Marathon. First, let me tell you about Setsubun. This traditional festival marks the beginning of spring (in the dead of winter) by throwing bags of soybeans or even rice cakes. Who does this? Many temples, shrines and even kindergartens, where children learn the chant, "Oni wa soto! Fuku wa uchi!", meaning, "Devil go out! Luck come in!". "Oni", or devils visit a a local temple or kindergarten, where children throw beans at them to chase them away. Usually held around February 3rd, this unique event is fun for all involved.
The Sapporo Snow Festival
Secondly, I'd like to mention the Sapporo Snow Festival, an event occurring in the middle of February. Take the new Shinkansen train up to Sapporo, the largest city in Hokkaido, the great island of the north. Watch ice sculptors at their craft and marvel at what they create. This would be an ideal starting point for a snow sport adventure in Niseko or a trip to charming Hakodate.
Marathon Madness!
Finally, I will discuss Tokyo Marathon, the most famous of the multitude of marathons held throughout Japan from November through March. Always held on the third Sunday of February, this event will appeal to any fans of running, the most popular individual sport in Japan. However, if you are traveling through the marathon route, please make note of road closures.
The Best Things to See and Do in the Winter
For many first time visitors, Japan is a surprisingly serene destination for a winter vacation. From delightful Christmas decorations in December to the Sapporo Snow Festival in February, there are events and performances in all parts of the archipelago to attract visitors from all over Japan and the world!
Shirakawago
One winter highlight is the scene of traditional farmhouses, called "Gassho-Zukuri", being lit up at night on weekends in January and February, in Gifu prefecture's Shirakawago village. The best way to enjoy this unique event is to book a night at one of those farmhouses, where a hearty dinner and warm hospitality take the edge off of the chill. Be sure to bring your camera for this!
Winter Travel tips
When planning your trip, try to avoid arriving or departing Japan between December 23 and January 10, as this is the peak season for Christmas (often celebrated on 12/23, a national holiday here) and the New Year (running for six days from 12/29 to 1/3) as well as "Coming of Age Day", a national holiday falling on the second Monday in January. If you can arrive and depart at other times, you may avoid higher occupancy and room rates at hotels as well as overcrowded roads and public transportation as people travel all over Japan to join their families to celebrate Oshogatsu, the Japanese New Year.

Spring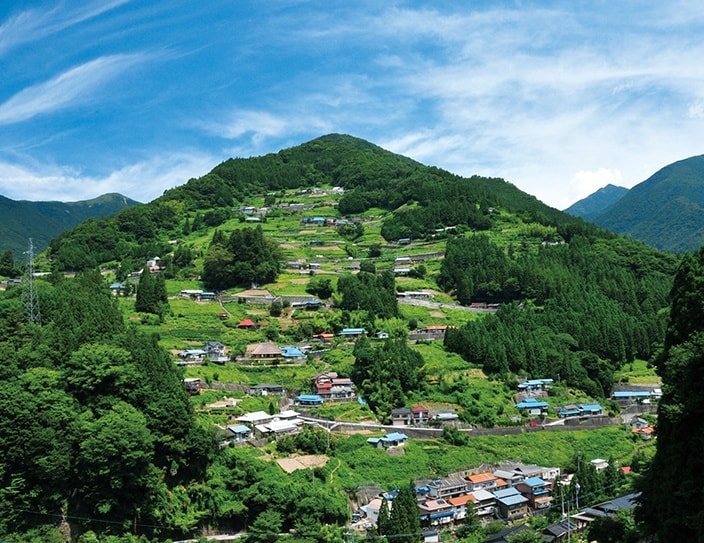 Climate and Temperature
When it comes to seasons, few are as fickle as spring. It can be sunny one moment, with showers breaking out the next. "April showers may bring May flowers", but it seems there are as many rainy days as sunny days in much of the archipelago. With temperatures ranging from 10 Celsius (50 degrees Fahrenheit) in the north to 25 Celsius (77 degrees Fahrenheit) in the south, it's wise to pack layers, including a light jacket for cool or rainy days, a hat for sunny and hot days, and that portable umbrella mentioned in the winter section. Socks don't need to be as warm, but they are still useful, as are the sturdy, easily removable shoes. Many entrances in Japan are still shoe-free.
March: Time to Stop and Smell the Ume Blossoms!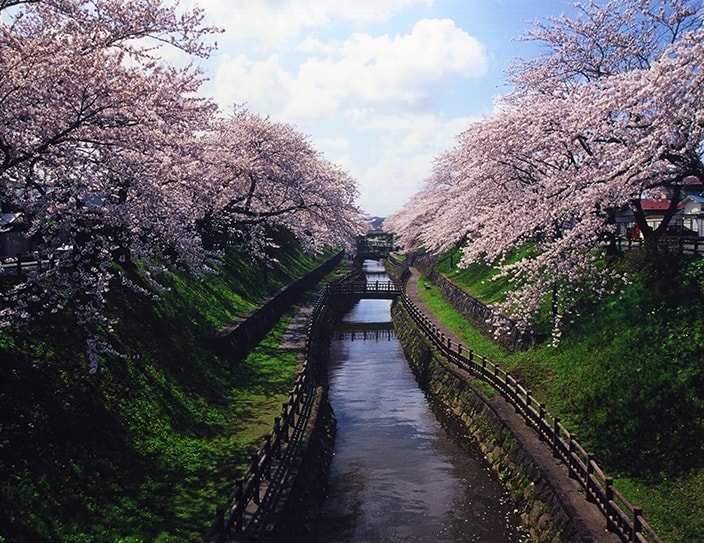 "Hanami", Flower Appreciation
While April is better-known as the time to appreciate the blossoms of early spring in "Hanami", I personally prefer March, because this is when we can see "ume", a flowering fruit tree often referred to as "plum", bloom all over Japan. The fragrance of these hardy little blossoms, ranging in color from deep red to white, delight the nose as much as the eye, and they tend to last longer than the ephemeral "Sakura", discussed in detail in April. Like the Sakura, the blossom "flow" starts from early February in Okinawa and extends to late April in Hokkaido, so one tip is to check your local destination for ideal viewing periods. Another tip I can give is to visit Dazaifu Tenmangu Shrine in Fukuoka city at the beginning of March, when the splendid scene of Ume forms a backdrop for performances of traditional Japanese poetry readings in costume, with refreshments available for a fee.
Hina Matsuri
Another delight of this month is Hina Matsuri, also known as Girl's Festival or even Doll's Day. Traditionally celebrated on March 3, this event is marked by girls decorating their homes with precious "Hina" dolls, dressed in the finery of the Japanese imperial court. Many museums and shops also display these lovely creations, often heirlooms worth thousands of Pounds. In some areas, weekend events such as tea services are offered at such displays, and one fantastic place to see a procession of girls in kimono floating down the river is Yanagawa, in southern Fukuoka prefecture. Marking the end of the 2-3 week display period, this festival is often held on a weekend in the middle of March.
The Season of Transitions
March and April are also months of transition, since the academic year ends in March and starts in April. Company transfers, new hires, and moving house often occur at this time of year, too. Travel congestion and higher occupancy rates for hotels can be expected from around 3/20, the first day is spring, to 4/10, the traditional beginning of the new school year. Because these dates often coincide with "Hanami" season, one tip is to check peak flower viewing dates in your destinations before making plans. The most famous parks and gardens in Tokyo and Kyoto will be crowded, but conditions elsewhere will depend widely on variables such as the weather and school holiday periods.
April: Time to Catch the Cherry Blossoms While You Can!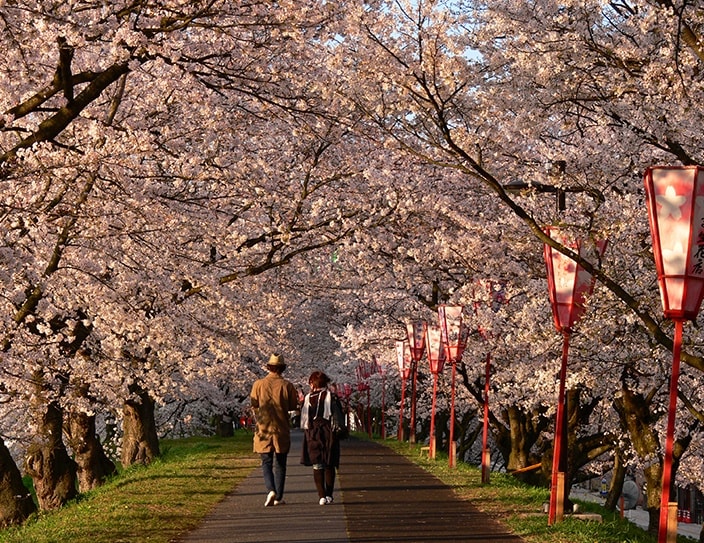 If you have your heart set on seeing the ephemeral Sakura, then this is the time to brave the crowds and come see what all the fuss is about. Yes, they are lovely, and they bloom almost in unison at every castle, shrine, temple and park worthy of the name. One memorable place to ponder the mysteries of life among the clouds of pink is Himeji Castle in Hyogo prefecture. This magnificent edifice, a World Cultural Heritage Site, has never been used in battle, standing as proudly as it did when it was built 400 years ago. Here's a tip to make it even more memorable: Stop by JR Himeji Station for maps and pamphlets. With advance notice, a volunteer guide may show you around!
May: Time to Wander Among the Azalea, Wisteria and Iris!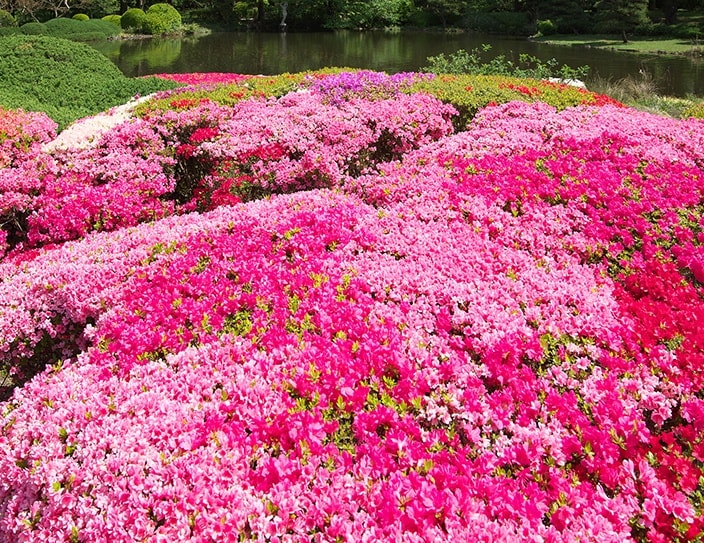 This is the best time of year to enjoy parks and gardens in full bloom. From the middle of April through the end of May, brightly hued azalea, gorgeous purple and white wisteria, and lovely iris of similar shades appear all over Japan. One park famous for azalea is Mifuneyama, located in Takeo city, Saga prefecture. If you are in the Fukuoka area, make a day trip out of it and try the nearby Takeo Onsen, a famous hot spot of historical significance. Also, if you are in the area, be sure to check out the fabulous displays of wisteria at Kawachi Fujien in KitaKyushu. It's a private garden only open during the peak season from mid-April to mid-May. After appearing on CNN news and in social media, it has achieved international fame. Advance purchase of admission tickets may be required at peak times. Miyajidake Jinja, a shrine near Fukuoka city, holds an annual Iris Festival from late May through early June. If you visit on May 31 at 10 am, you can see Shinto shrine maidens dance as priests pick the lovely purple and white blossoms. One travel tip for all of these outings is to try and arrive early in the morning to avoid the crowds. Don't forget your camera, hat, walking shoes and portable umbrella!
The Best Things to See and Do in the Spring
Among my friends and acquaintances living here, spring is one of the best times to visit Japan. Blossoms bloom and birds sings as spring sheds the chilly temperatures of winter. Visitors and locals alike take advantage of the warmer weather to do "Hanami", when a variety of flowers can be enjoyed all over Japan. Festivals and events are also held throughout March to May.
"Karakuri-Ningyo"
One popular festival is held in the middle of every April in Takayama, Gifu prefecture. Known as "little Kyoto" for its charming rickshaws and lively old streets, the town welcomes the season with its semi-annual display of floats featuring "karakuri-ningyo", or mechanized wooden dolls that pop out of the tops of each float. If you miss the festival, there is a museum in town housing these treasures, a testament to the craftsmanship that Japan is so famous for.
Spring Travel Tips
As mentioned above, March and April are times of transition in Japan, with lots of moving about between the middle of March and the middle of April. Although international flights may be reasonably priced, domestic travel might be more expensive or crowded, along with lodgings and many popular attractions. If possible, I'd choose to come after April 10 and before April 25, as this is typically when the "Golden Week" period begins, lasting until after May 5. The azalea and wisteria will be in bloom during this time, at least in the warmer areas. Planning your dates can save you some time and money! An alternative itinerary is to arrive after Mother's Day (5/14 in 2017) and stay until about the end of May. That way, you could enjoy the iris gardens!

Autumn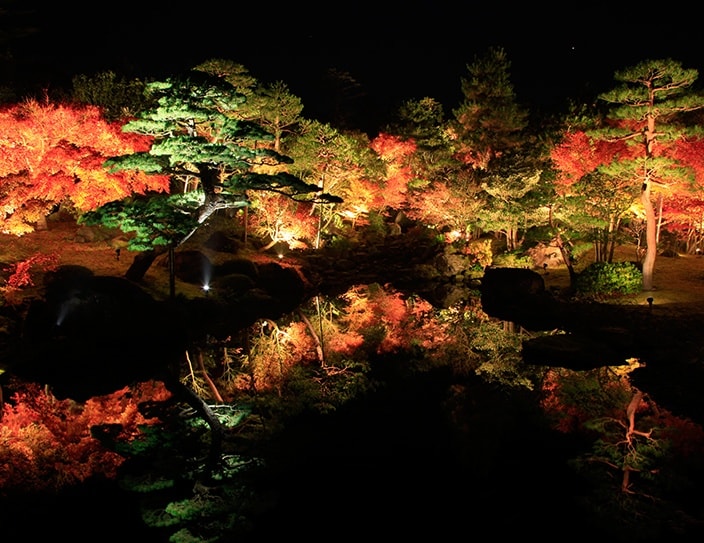 Climate and Temperature
After the long, hot summer, autumn arrives like a cool breeze, sweeping all the heat away! Typhoons are a threat at this time of year, especially from August through October, but they often leave cool, clear air in their wake. Be sure to check local forecasts, as weather conditions vary widely across Japan. September can still be as hot and humid as August, but eventually it cools down, and we usually stop using our air conditioner by the end of the month. October and November are the most pleasant months in Japan, in my opinion. The sky is high, the air is fresh, and it's neither too hot nor too cold, with temperatures ranging from 10 to 25 degrees Celsius (50 to 77 Fahrenheit). Rains do fall, but they are neither as long nor as heavy as those in summer.
September: Time to Respect the Elderly and Hold a Sports Day!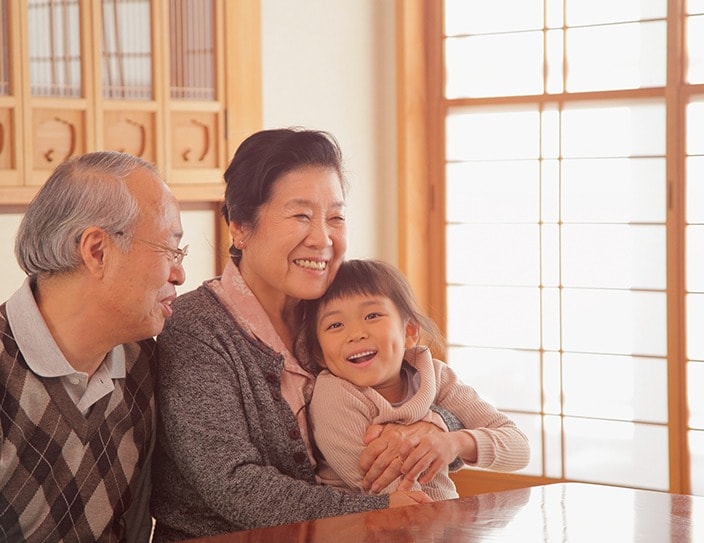 School starts back in earnest on September 1, and students all over Japan hold sports day events on the weekends. Started to commemorate the first Tokyo Olympics in 1964, these all-day events see parents and grandparents packing lunch boxes and video cameras to watch the apples of their eyes run.
Can you see a Rabbit in the Moon?
Moon-viewing is also an event, held around the autumnal equinox on the 22nd. Like its vernal counterpart in March, this is a national holiday devoted to cleaning the graves of the ancestors. In a nation with an elderly population of over 25% of its total, there is also a national holiday dedicated to them, falling on the third Monday of September. What this means to the overseas traveler is that hotels and transportation, as well as attractions, will still be crowded, although not as much as in summer or the peak holiday seasons.
October: Time to Trick or Treat as the Leaves Change Color!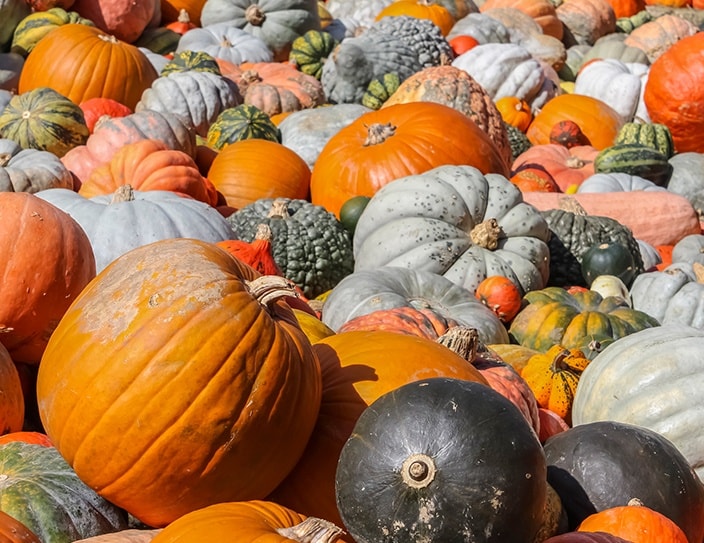 When I first came to Japan, no one had ever heard of Halloween. How times have changed! Thanks to theme parks like Disney Resorts and Universal Studios Japan, this American tradition has taken root here, at least in the form of cosplay parades and candy marketed for the occasion. While decorations start coming out from the beginning of September, it can still be hard to find a real orange pumpkin! For foodies, "kabocha" (squash) flavored soup and delicacies will mark the season. Don't be surprised if you see small children dressed up for trick or treating, but they are actually going to English class!
"Koyo" Autumn Foliage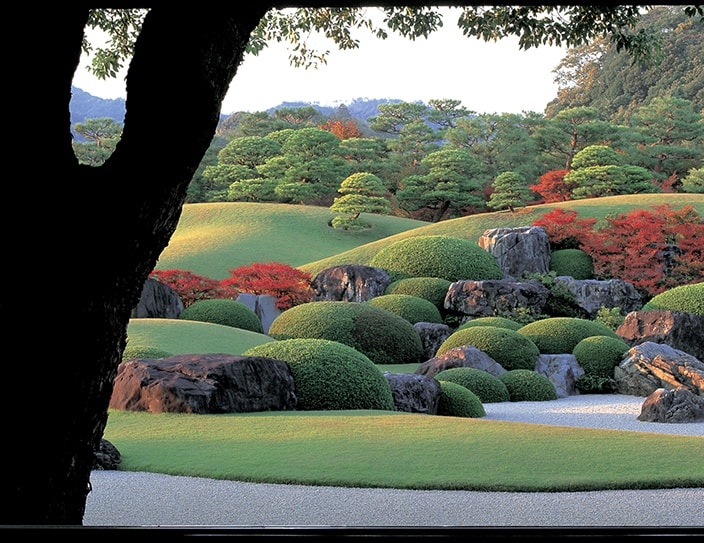 Similar to the Sakura season in early spring, autumn foliage ("Koyo" here) follows a path along the length of the archipelago, starting in October in Hokkaido and extending to early December in Kyushu. One tip is to check your destination for its season, but usually it will be from mid-November.
One memorable experience I had in Hokkaido was riding my rented bicycle along lake Onuma under a canopy of leaves ranging in hue from vermillion to gold. As with flower viewing, any public park, garden, shrine or temple will boast at least one, and often many, gorgeous "Kaede" maple trees. In order to avoid the inevitable crowds, try to visit these destinations on a weekday, and bring a "bento" boxed lunch for the full picnic experience. Just remember to take back your trash! One tip is to use the plastic bento bag for this purpose.
November: Time for 7-5-3, Sumo Basho and Karatsu Kunchi!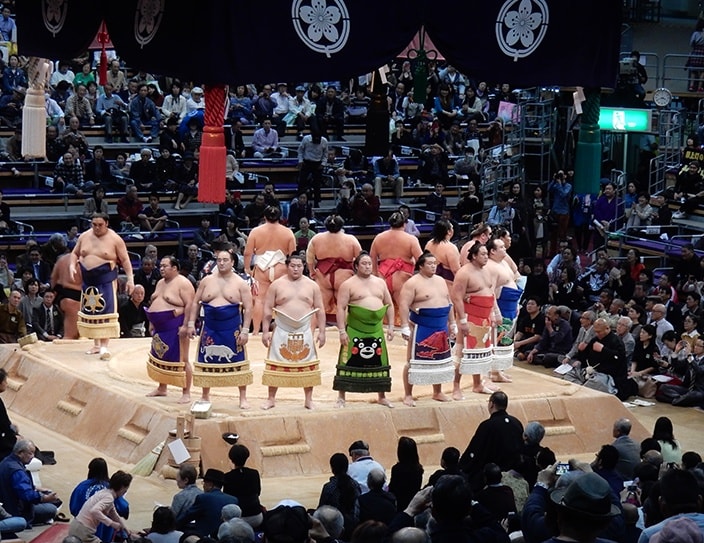 I've saved the best for last by putting November at the end of my post. If I could choose one month to visit Japan, this would be it. The climate is mild in most locations, the "onsen" baths are delightful under the autumn foliage, and November boasts three of my favorite things in Japan: the 7-5-3 festival in mid-November, the Kyushu Sumo Basho (actually, it's held 6 times a year in various locations) and Karatsu Kunchi, my husband's hometown festival.
Shichi-Go-San (7-5-3)
A time-honored tradition among families with young children, this is an event held around 11/15 in which girls aged 3 and 7, and boys aged 5, are dressed in kimono and taken to local shrines to pray for their health and happiness. The children are rewarded with "chitose-ame", a plum-flavored candy, while the prize for their parents are adorable photos that will likely grace their next New Year cards. If you wish to capture this scene on camera, please ask first!
Kyushu Sumo Basho
I've chosen to post here about Sumo because November is when the rikishi of this venerable sport visit Kyushu for their two-week basho (tournament) in Fukuoka. I'll admit to never actually attending one, but I have seen kimono-clad rikishi out and about. One memory from my first year in Miyazaki was seeing a giant Hawaiian walking down the shopping arcade. He looked at me, and I him. We didn't speak, but when I saw him on TV later, I recognized him as Chad Rowan, aka "Akebono", the first foreign "Yokozuna" grand champion!
Sumo Basho Schedules
Sumo basho are typically held six times a year for two weeks each. Held in Tokyo are the January New Year's basho, the Spring (May) and Autumn (September) basho. The other three are Osaka in March, Nagoya (Aichi prefecture) in July, and Kyushu in November. If you are a diehard fan, you may plan your itinerary around one or more of these ever-popular events!
Karatsu Kunchi Festival
"Enya, enya! Yoisa, yoisa!" These are the cries you will hear in the streets of Karatsu, a small town 1.5 hours to the west of Fukuoka city, November 2-4. For one night and two days every year, this sleepy town, known for its 5-km pine forest and highly valued pottery, comes alive with the Karatsu Kunchi. This festival, dating back 190 years to when its founder was inspired by the Gion Festival of Kyoto, features 14 lacquered floats in the shapes of helmets and mythical creatures pulled through the streets of the town by men and children in traditional "Happi" coats. People visit from near and far to see the spectacle, by day or at night. The flute music of the floats, played by young boys, fills the air with the atmosphere of days gone by. Come check it out!
The Best Things to see and Do in Autumn
Most of my foreign resident friends agree that autumn is the season to get out and enjoy the splendid nature that Japan is rightfully famous for. As we have several national holidays sprinkled throughout the season, many of us are fortunate to be able to do just that, no matter where we live. Onsen, Koyo, festivals: these are the things that make Japan a special place to visit. Please come and find out what all the fuss is about. Book your autumn adventure!
Autumn Travel Tips
Like spring, autumn is a season of variable temperatures and weather, although it's typically drier and sunnier than in spring. This makes packing easier, as a lightweight jacket, scarf and hat will usually be enough to keep you warm. Night falls early and gets cold quickly, so those warm winter socks will come in handy. Study walking shoes or boots, easily removable, are a must. One tip is: try to fit everything into one suitcase, with wheels for easy mobility. Many overseas visitors can be seen crossing Japan's busy streets with large luggage, perhaps unable to utilize the taxicabs at every station.

Summer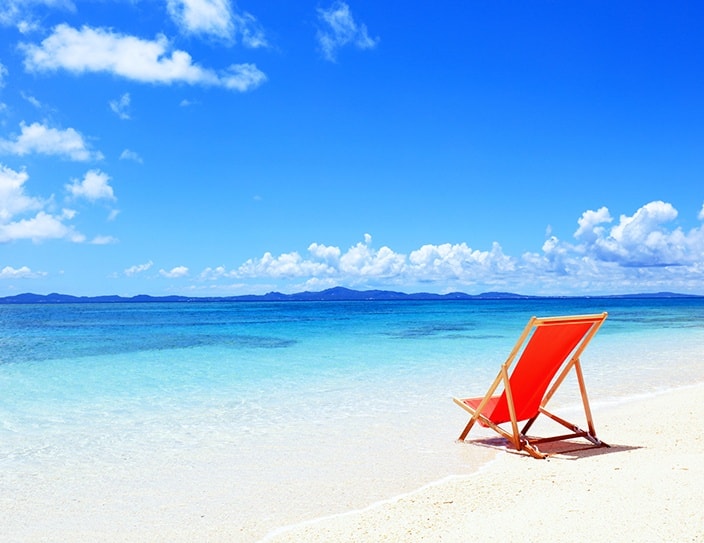 Climate and Temperature
Ah, summer! Hot and humid, mostly sunny days followed by warm tropical nights...if these appeal to you, then I can recommend visiting in summer. The temperatures will range between 25 Celsius (77 Fahrenheit) cooler areas like Hokkaido and the Japan Alps and 35 Celsius (95 Fahrenheit) elsewhere in Japan, no matter where you are located. Coming from cooler Seattle, USA, the humidity is something I still struggle with in my 21 years here, to be honest.
"Mushiatsui"!
When I arrived in Miyazaki on Kyushu island in 1992, the very first word I learned was "mushiatsui", meaning hot and humid. It's an apt description of what a friend terms "the season of sweat"! One travel tip I can give is if you do visit Japan between June and September, go native and buy a "tenugui", or decorative hand towel, at any tourist shop and keep it around your neck.
Another tip is to buy a portable parasol to keep the harsh sunlight away if you are fair-skinned. Sturdy sandals or slip on shoes, cotton or linen clothing and the aforementioned hat and umbrella are also necessary, as it does rain in summer, especially from June to July. Women's bare arms and men's bare chests are frowned upon, so cover up! I find that a light shawl or shrug works.
June: Time to Tune into the Charms of Tsuyu's Seasonal Rains!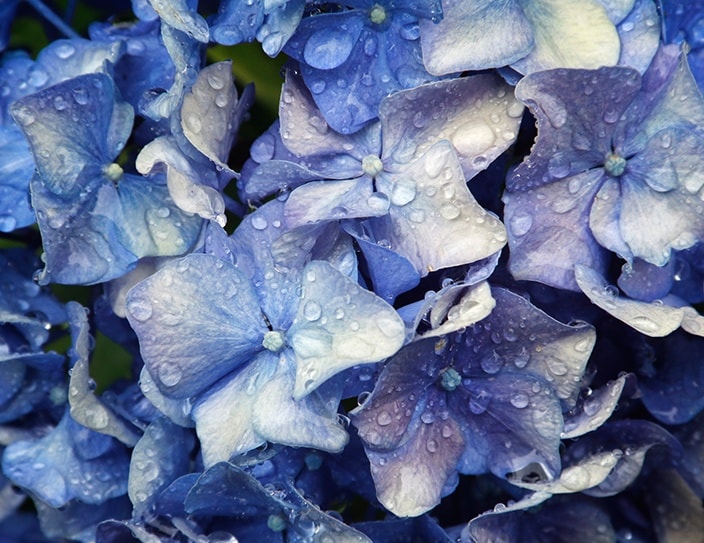 If you have heard anything about Japan's rainy season, stretching across the archipelago from mid-May in Okinawa to mid-July in Tohoku, you may have the idea that it rains all the time. Not so, in my opinion. I hail from Seattle in the NW of the US, where it rains up to 300 days a year, so "tsuyu" (the 'plum rain' of summer) pales in comparison. Of course, visitors can expect heavy rains, even downpours in some locations, so outdoor activities are restricted.
Heavenly Hydrangeas
However, that shouldn't stop travelers from enjoying Japan's wide array of shops, restaurants and museums, all of which will be open but less crowded than in July and August during summer holiday season. Tsuyu is the best time of year to enjoy hydrangeas, which bloom in splendid variety all over the archipelago. Many gardens, temples, shrines and even mountain paths will boast fluffy bushes of purple, blue, white, pink and even red blossoms.
Waterfalls and Shaved Ice!
One place where I can enjoy the season is "Shiraito no Taki", a waterfall with lovely greenery and hydrangea to the west of Fukuoka city. Visit it during the week to enjoy the serenity of the natural environment without the crowds. If shaved ice appeals to you, check out the "kakigori" at a nearby shop called Murakami. Avoid waiting in line by coming on a weekday, buy your treat (¥600-1000) from a ticket machine, and savor the sweet coolness of fruit, chocolate or green tea ice! Just as in most of rural Japan, this is a cash-only establishment, so bring your yen (pun intended) for a fabulous experience.
July: Time to Make a Wish, Hit the Beach and Watch Fireworks!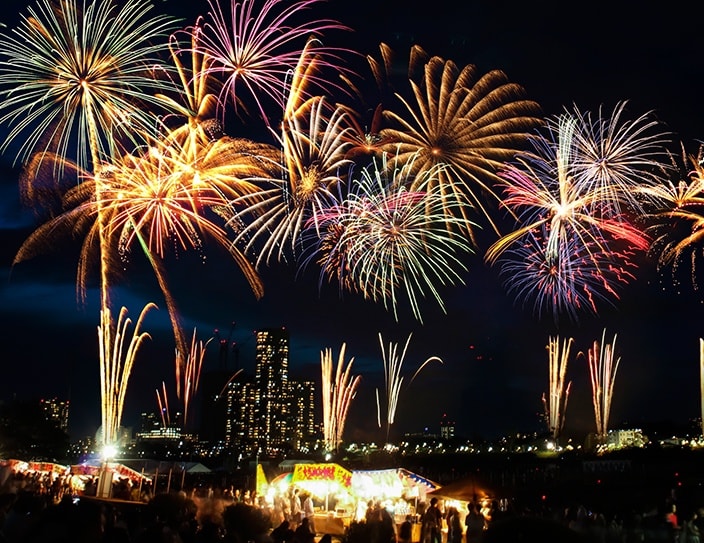 Ah, summer! Hot and humid, mostly sunny days followed by warm tropical nights...if these appeal to you, then I can recommend visiting in summer. The temperatures will range between 25 Celsius (77 Fahrenheit) cooler areas like Hokkaido and the Japan Alps and 35 Celsius (95 Fahrenheit) elsewhere in Japan, no matter where you are located. Coming from cooler Seattle, USA, the humidity is something I still struggle with in my 21 years here, to be honest.
July ushers in summer in earnest, in all of its hot, sweaty glory! Morning glory blossoms pop up on school grounds, where children eagerly await the long summer holidays that begin around "Umi-no-hi", the three-day Marine Day weekend in mid-July. In order to avoid the inevitable crowds at popular tourist destinations, try to book your trip before July 15, if at all possible.
Tanabata
However, July is not without its charms, and I'll introduce three of them here. The first one is Tanabata, the Star Festival held every July 7. This is the one night of the year when Altair and Vega meet up in Aquila across the Milky Way. Japanese children write their wishes on colorful strips of paper called "tanzaku"and hang them on bamboo branches. These charming little trees decorate local stations, schools and shopping areas like Christmas in July!
Beaches
Secondly, summer wouldn't be worthy of the name without beaches, and Japan boasts thousands of kilometers in coastline, both sandy and rugged. Here are a few tips to make your beach experience the best one possible:

1. Swim only in designated swimming areas, as others may be polluted or infested with sea life that can threaten humans, like sharks and jellyfish.
2. Wear sunscreen or cover up, as I learned the hard way recently. The summer sunlight is strong and it takes less time than you think to burn!
3. Please remember that people (like me) often live near the beach, so be considerate by taking away your own trash and keeping the noise down.
Fireworks
July and August are best known as the season of "Hanabi", when fireworks light up the sky all over Japan. When I lived in Gifu city, I could see 2 shows held back to back in late July and early August along the Nagara River. Now that I am in Kyushu, I enjoy the fireworks show held along the beach of Karatsu Bay during the above-mentioned Marine Day weekend. Both are special in their own ways, but here are a few tips for the best experience:

1. Use public transport to get to the venue, as parking will inevitably be full. Expect crowds and delays on the road, as well as fully packed trains or buses.
2. Come early and sample the food and drink available at the stalls lining the river or beach. Usually fireworks shows start at 7-8 pm and last 1-2 hours.
3. Wear sturdy shoes or sandals. Try going native in "yukata", the summer robes on sale at this season. An alternative is called "Jinbei", a type of cotton pajamas. Children often dress up in adorable character versions of these.
4. Bring a flashlight, foldable fan, and that portable umbrella or parasol. These will all come in handy when it is dark and rainy or hot and humid.
5. Just as with your beach trip, please be mindful of the nearby residents. Keep the noise down (especially after 10pm!) and take away your trash.
August: Time to Escape to Coolness or Dance the Night Away!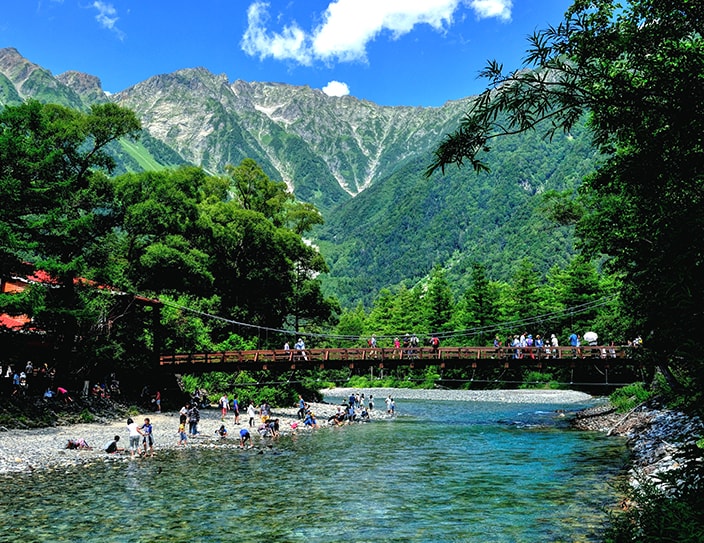 August is the month when foreign residents return to their home countries in what is known as "Satogaeri". This homecoming takes place all over Japan in mid-August, a peak travel season coinciding with Obon, the Buddhist festival of remembrance for recently deceased family members. It competes with Oshogatsu in January and Golden Week in May for the prize of most crowded and expensive time to travel here, but there are some charms to the season.
Escape to the Mountains
In years past, my husband and I have escaped Gifu to the cool mountains of Nagano prefecture in Japan, especially the ever-popular Kamikochi region. Open only from late April to early October, this resort delights trekkers and hikers from all over the world. Book early and plan for travel delays if you choose to visit in August, as did. The views are worth all the trouble, though!
Dance the Night Away
Another way to stay cool, or at least enjoy the heat more, is to dance the night away in Bon-Odori, traditional dances held all over the country at this season. If you prefer to watch, a famous one is the Awa-Odori in Naruto on Shikoku, where dancing ladies wear traditional slanted hats with their "yukata" robes. If you want to join in the fun, one memorable event is Gujo-Odori, dances held every weekend in the town of Gujo-Hachiman in Gifu prefecture. During the Obon holidays, it is possible to literally dance the night away, as trains stop running between 12 and 5 am. There are even cosplay dances held here, too!
The Best Things to See and Do in the Summer
I think I've answered this question in the sections on July and August. Most fireworks shows center around "Matsuri", or festivals, featuring all kinds of live entertainment (such as taiko drumming) and fun food to try, as well as local wares to buy. Most festivals are held on weekends, making them as crowded as one can imagine, so try to come early and expect road delays.
Summer Travel Tips
The best advice I can give regarding summer is to plan in advance, as many of the places and events I've mentioned are likely to be crowded and hotels will be at high occupancy from at least Marine Day weekend through the end of August. Hokkaido is the one place I can imagine to escape the heat, especially the Shiretoko peninsula, but this is also an extremely popular destination. No matter where you visit, one tip is to drink enough liquids, as dehydration can be a serious threat. Don't be afraid to stop and take a rest when you need to!

My Favorite Time to Visit Japan!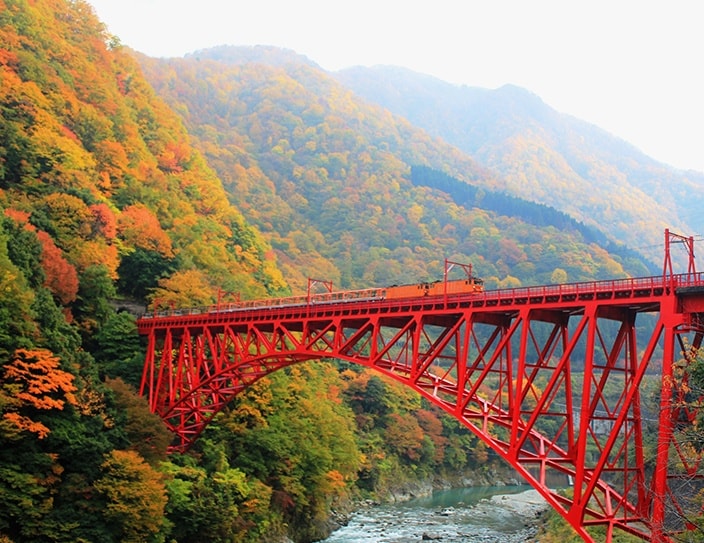 While any time is a good time to visit this lovely archipelago, full of discoveries at every turn, my hands-down favorite time of year here is Autumn. The sky is high, the air is clear, and the food, from persimmons to salmon, is so delicious! Every year, I look forward to the approach of the Koyo and festival season, when the leaves turn their "true colors" and events to mark this most pleasant season are held throughout Japan. The climate is just right for me, and the onsen is calling my name at this time of year. In fact, as I write this, I can spy the vermillion "higanbana" flowers pop up in the rice paddies: a sure sign of the changing of the season. Come see it for yourself!
So that ends my first post, but not my last, for you here at Japan Travel Centre. I hope I was able to solve the mystery of when is the best time to visit Japan. Please let me know if you have any questions. Thank you for reading my post!