Over 20 years experience specialising in travel to Japan
We have over two decades of Japan holidays experience with Tailor made tours, Guided tours, self-drive tours, honeymoon, cultural experience tours and so much more.
Our experts will design your trip to match to your interests, tastes and budget.
Japan Travel Centre as a trading name of Gendai Travel limited is a registered member of ABTA, ATOL and IATA in UK
Trading Name of Gendai Travel Limited
Registered in England: Boundary House, Boston Road, LONDON W7 2QE
Company REG.

No.1394201
VAT Registered

No.GB 342 1461 89
UK OFFICE
Japan Travel Centre
6 Southampton Place, London WC1A 2DB
TEL: +44 20 7611 0150
https://www.japantravel-centre.com/
http://www.japan-railpass.co.uk
Email: Email: enquiry@japantravel.co.uk
FRANCE OFFICE
Japan Travel Centre Paris by Voyages à la Carte
48, rue Sainte-Anne 75002 PARIS, France
TEL: +33 1 42 96 91 20
https://www.japantravel-centre.com/fr/
Email: france@japantravel-centre.com
GERMANY OFFICE
Japan Travel Centre GmbH
Immermannstr. 53, 40210 Düsseldorf
TEL: +49 211 1793 5225
https://www.japantravel-centre.com/de/
Email: germany@japantravel-centre.com
JAPAN OFFICE
Tokyo Office Japan Travel Centre Tokyo
by Affinity co. Ltd
3F Jingu gaien Building, 2-7-25 Kita-Aoyama Minato-ku, Tokyo, Japan 107-0061

Fukuoka Office Japan Travel Centre Fukuoka
by Affinity co. Ltd
5-C Tada Building 1-16, Tsunaba-machi, Hakata-ku, Fukuoka, Japan 812-0024
TEL: +81 92-292-3520
Email: enquiry@japantravelcentre.jp
Our Travel Experts
First Class and Personal Service• Inside Knowledge
Our aim is simply to provide you a trip of a life time experiences in Japan.
All of our experts have lived or travelled extensively in Japan you can rest assured your holidays have been fully planned by our experts. With boundless enthusiasm for what the Japan has to offer, we design your trip to match to your interests, tastes and budget.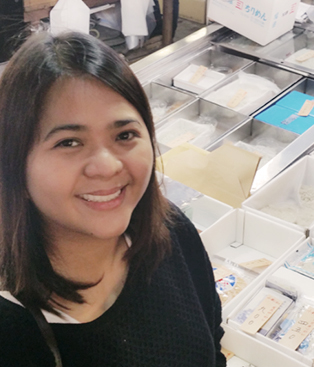 Sandy
Specialty:

Tour coordinator
I love travelling and discovering new culture and exotic places. Being part of the Japan Travel Centre team for 10 years has inspired me to discover the true Japan.
Eclectic and mesmerizing, these are two words that I can best describe Japan. In every corner you would always find something unique and interesting. There are so many beautiful places that loved when I first visited Japan, from the bustling city of Tokyo, exciting journeys with bullet trains, the fascinating temples and shrines in Kyoto, the majestic Mt.Fuji, delicious food, well-crafted potteries and ceramics, Japanese onsen ( hot springs), the natural beauty of nature, to the polite and hospitable people. For first time travellers, I would recommend that you try and get as much information as you can about the culture, train system, currency,local attractions and must see sights, it'll be very useful especially if you don't know how to speak the language.

Our dedicated team in Japan Travel Centre have the key skills that will inspire you in making your trip to Japan an unforgettable and worthwhile experience.
Work with us
Plan and sell transportations, accommodations, and other travel related services.
Assist clients to determine their needs and advise them appropriate destination, modes of transportations, travel dates, costs and accommodations
Provide relevant information, brochures and publications (guides, local customs, maps, regulations, events etc.) to travellers
Book transportation, make hotel reservations and collect payment/fees
Deal with occurring travel problems or complaints
Handle and reply to telephone, email and walk-in enquiries
Meet profit and sales targets
Proven work experience as a travel agent
Comprehensive knowledge of Japan and must have worked or resided in Japan for a considerable period of time
Excellent knowledge of CRS; Sabre proficient is desirable
Fluent in English and Japanese at business level - multi-lingual is an advantage.
Strong sales skills
Ability to interact, communicate and negotiate effectively
Sound knowledge of domestic and international travel trends
If you are interested in this role, please send your CV to: HR.Dept@gendai.co.uk

*Please note that only successful applicants will be contacted.
*書類選考に通った方のみご連絡を致しますので予めご了承下さい。