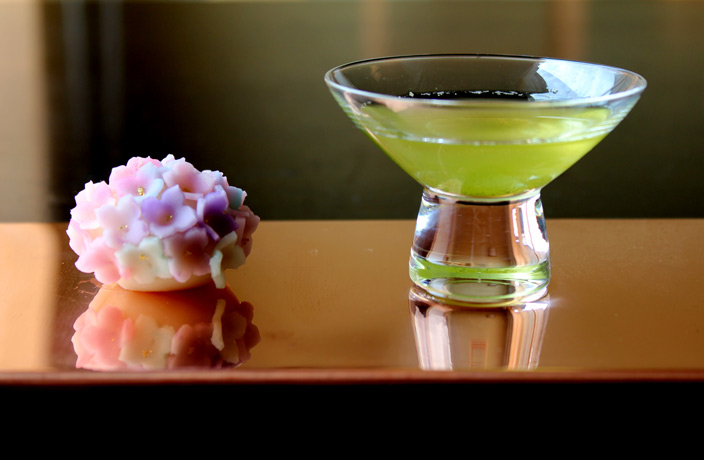 Do you like to snuggle up in your warm blanket, your favorite cup of tea in hand? Or do you prefer to drink splendid, yet unknown types of tea outdoors, in lush plantations with fresh wind breezes? The city of Ureshino offers its visitors a memorable experience, entirely redefining the pleasure of tea.
It takes about one hour by car from both Fukuoka and Saga City to reach Ureshino in the south of Saga prefecture. Admittedly, the city with an estimated population of 26,000 doesn't seem to offer a lot of excitement, but don't judge a book by its cover. Its origins can be traced back over 1,000 years into the past and the city flourished as stopover of the Nagasaki trade route during the Edo period. Ureshino's fame for ceramic craft and hot springs transcends prefecture borders, the latter's alkaline and mineral-rich water is said to possess skin-improving effects. But the heart of Ureshino lies in the cultivation of tea. It began around 600 years ago and made the region  one of West Japan's leading tea producers. Nowadays, many different types of green, black, roasted or Oolong tea are grown. Harvesting season is mainly in April and May, but first the plants have to grow for many years to achieve the best results. During these months the trees and bushes shine in a luscious, fresh green. Therefore spring is certainly the best time to travel.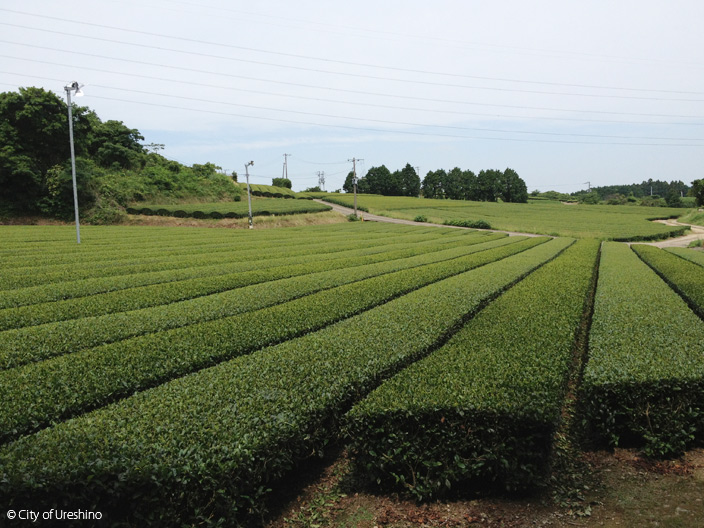 With the new concept of "tea tourism", Ureshino visitors will be lead on an exciting taste journey, while given the chance to learn more about the diverse plant by tea professionals. Duringsawa(茶話 "tea conversation"), you can enjoy traditional Japanese sweets matching the respective tea flavours, while the tea sommelier explains the features and characteristics of different tea types.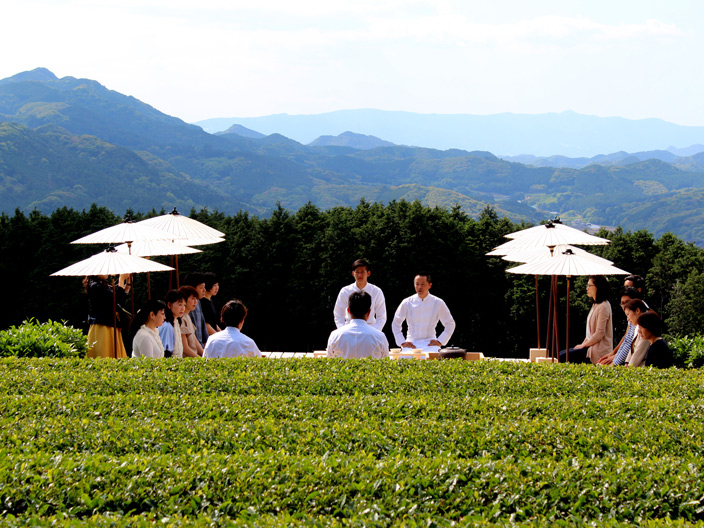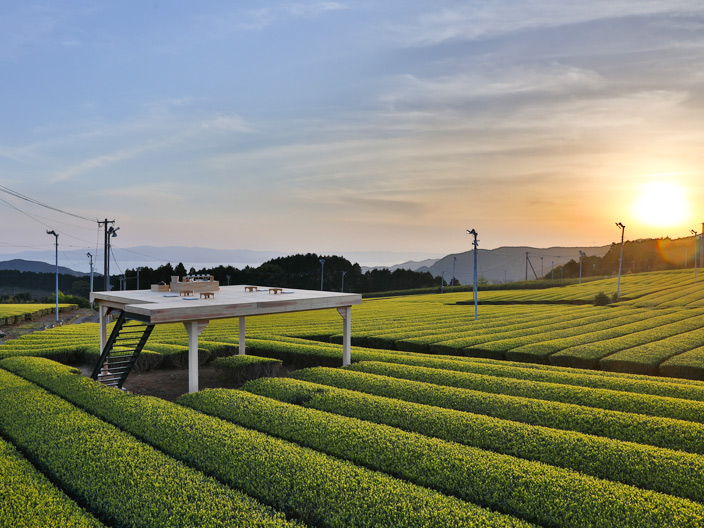 For this, several impressive "tea houses" were established as part of the so-called chabanaproject (茶花, "flower arrangement in a tea room"), which was inspired by lush tea bushes. Along with experienced tea experts, who answer all your questions, you will undergo a special type of tea ceremony:
The "Tea Tower" on the Ikeda plantation is a three metre high platform standing in the middle of tea fields and offers a splendid view of Ômura Bay. At 390 metres over sea level, it's just as if you are standing in the deep-green sea yourself.
The "tea arbor in the forest" is surrounded by trees and gardens. Here you can calmly drink a cup of tea, have conversations and enjoy the serene tranquility of nature.
The Yoshida tea house used to be a storehouse of a traditional pottery and its walls are made of bamboo. Its charm invites you to a completely new teatime experience.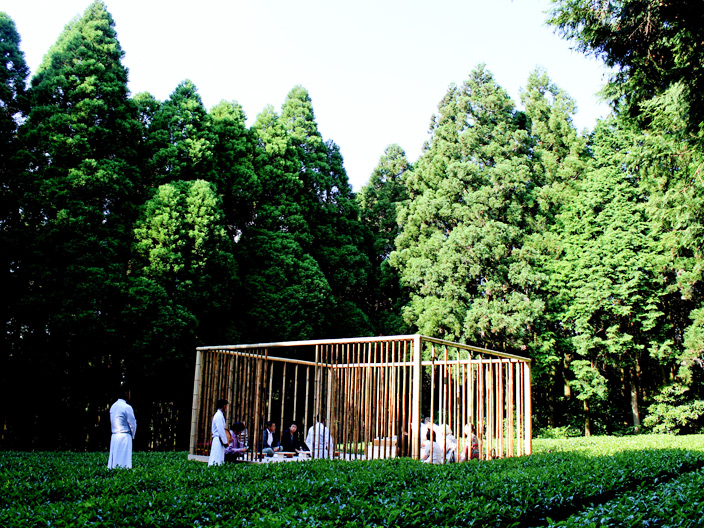 In order to reach the tea houses, the rather remote tea fields and other attractions, we suggest using Ureshino's useful charinsystem (茶輪, "tea cycling"). Via rental bikes or taxi you get to the 13 different tea shops around the city in an easy and cheap way. Hiking lovers, who prefer to walk, are suggested to use the Kyushu OLLE Ureshino course that is perfect to travel around Ureshino's world of tea, since it leads to several tea shops and through the copious plantations. At the start of the course, the former Hizen Yoshidayaki pottery warehouse, you can purchase your tea directly to go at the shop "Hocha".
Those who prefer to spend more time in this dreamy town, are well advised to do chahaku(茶泊, "tea stay"). This program over two days and one night is all about the tea. A so-called "tea butler" provides guests with welcome drinks, accompanies them to tea plantations and performs a special tea ceremony in a selected tea room. All while you enjoy delicious meals that accentuate each tea flavor. Afterwards, you can relax in one of Ureshino's soothing hot springs and recall the events of the day.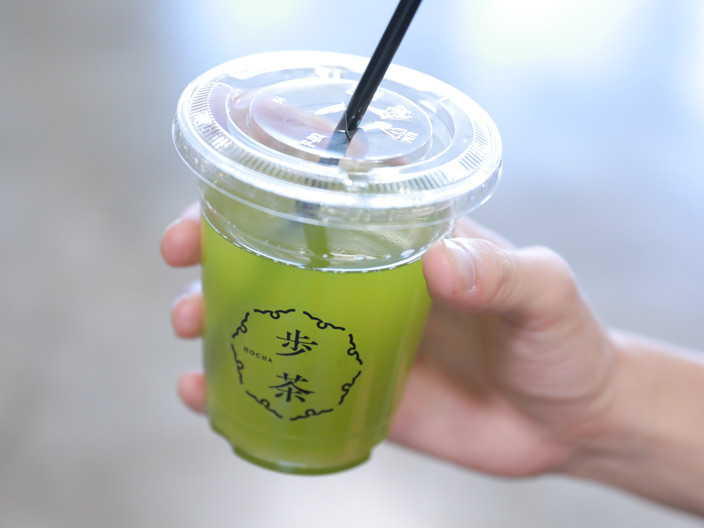 As you can see, this exciting concept of tea tourism is not just about drinking or buying tea. It's about sensing the spirit of the beverage, its production and preparation; about understanding its essence and coming into contact with it, while you learn something about the culture and history of a typically Japanese and yet entirely unique city.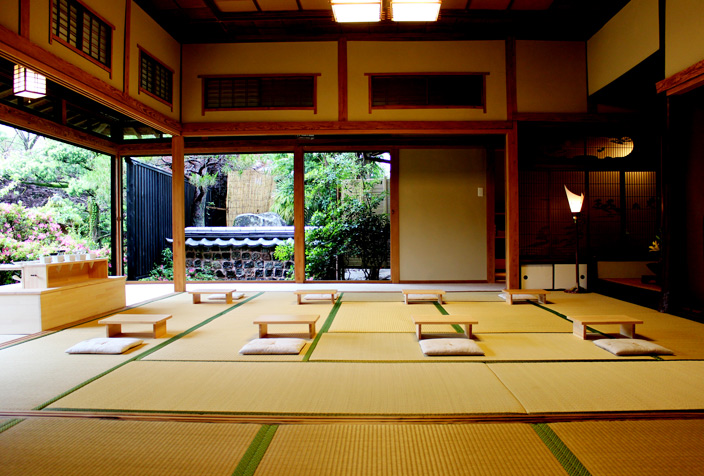 Getting to SAGA Ureshino
Via car:
One hour from Fukuoka or Saga Airport, approx. 30 minutes from Nagasaki Airport (via expressway).
Via train/bus:
Limited Express Train from Hakata Sta. to Takeo Onsen or Hizen-Kashima Sta. (approx. 1 hour). From there, bus ride to Ureshino Onsen Sta. (approx. 30-40 minutes).
Tea tourism
https://tea-tourism.com/en/