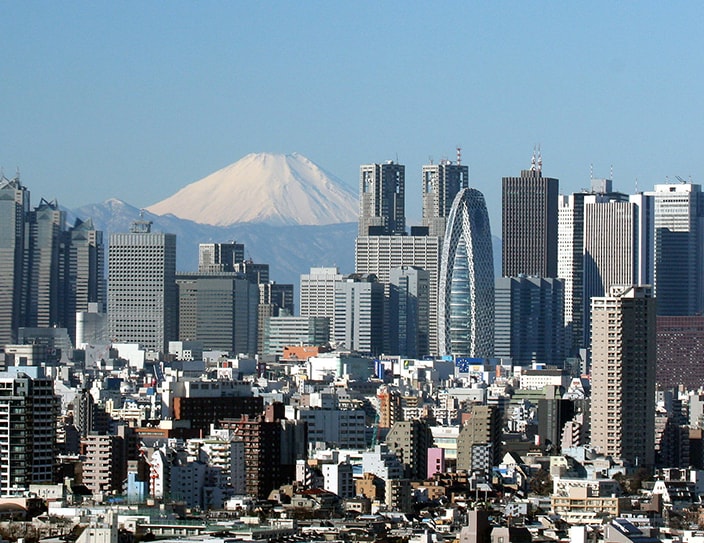 Tokyo, home to fast approaching 40 million people, is the world's most densely populated city, and one that never stops evolving. A city of stark contrasts, Tokyo embodies everything that makes Japan what it is today in facts, where history and the unique Japanese aesthetic, meet a sleek neon facade of exuberant youth fashions and outlandish pop culture, and advanced architectural design and hi-tech industries place the future firmly in the now.
I've lived and worked in this vibrant, sometimes mystifying, but always amazing city for 25 years now, so I'd like to share with you some tips include tokyo facts and impressions that might help to make your first visit here enjoyable and memorable.
1. How Tourist-Friendly is Tokyo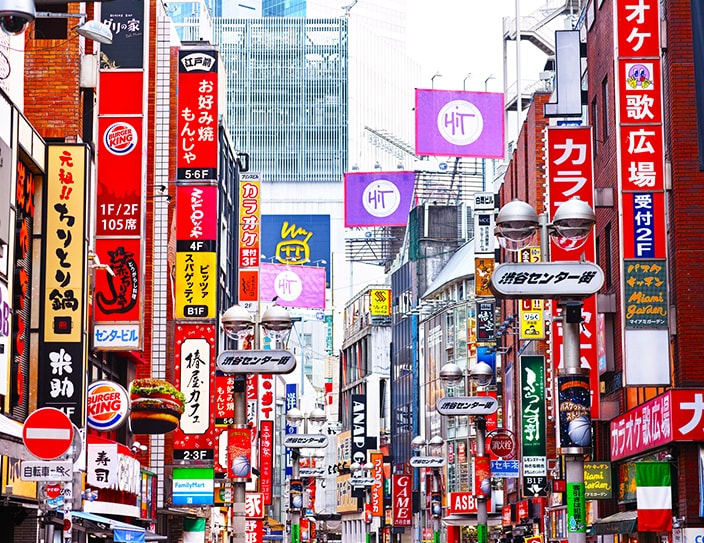 Surprisingly, Tokyo never seems to make the list of the world's 20 most visited cities.
Perhaps some people, in Europe particularly, are put off by the long flight to Japan, or by a perception of Japanese language and culture as being impenetrable. Still others may believe Japan to be an expensive destination.
But the truth is, Tokyo is far more tourist-friendly than ever before, with a high standard of service everywhere, extensive English guidance, and one of the most efficient transportation systems in the world. And believe it or not, Tokyo is no longer on the list of the world's 10 most expensive cities to visit either - London tops that particular list, along with 6 other European cities! Most of all, Tokyo remains a mysterious and enigmatic destination, so travellers visiting here today can still feel they are 'blazing a trail.'

Apartment Hotels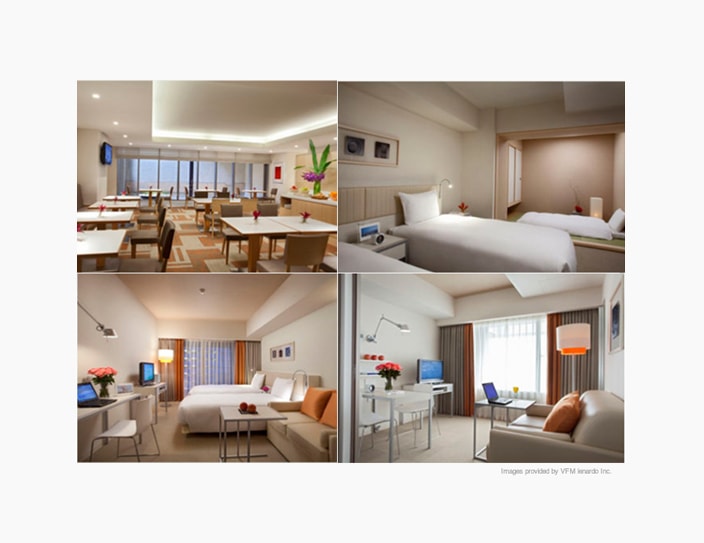 As you might expect of such a big city, Tokyo has literally hundreds of hotels, from very cheap (5,000 - 10,000 JPY per night), all the way up to the "if you have to ask, you probably can't afford it" bracket! Getting the best deal for a comfortable stay can be hit and miss, which is why many visitors prefer to stay at apartment hotels.
Combining the convenience of a hotel with the freedom and privacy of a home-from-home, these short or long stay apartments can make the perfect base for a sightseeing itinerary. For example, Citidines apartment hotels in Shinjuku offer comfortable, stylish and modern interiors with bathrooms and fully equipped kitchenettes, as well as generous storage space, air-conditioning, flat-screen TV, high speed internet access and refrigerator.
Citidines apartment hotels are conveniently close to Tokyo Metro stations too, and within walking distance of Shinjuku's many shopping, sightseeing and nightlife locations. Please see our page for further details.
Capsule Hotels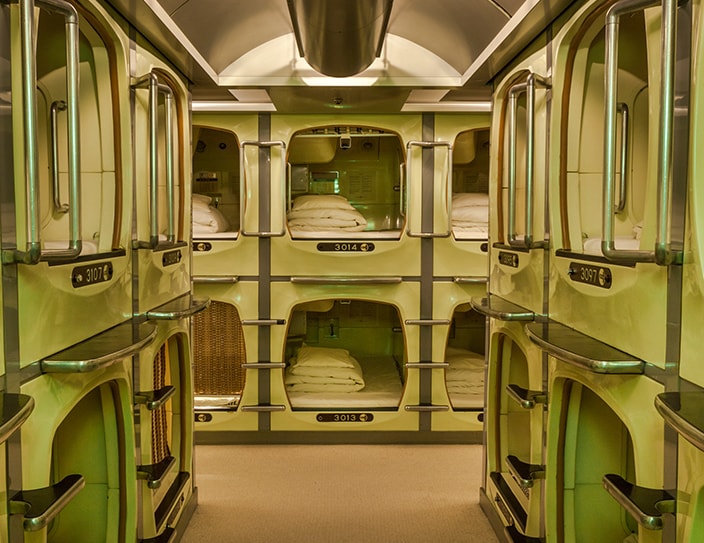 As you may already know, capsule hotels consist of stacked sleeping pods, each being just big enough to lie down inside, with basic amenities such as light, air conditioner, and alarm clock, though some have TV, power outlet, and free wi-fi. At the very least, shared facilities include lockers, showers and a lounge.
Mainly intended for businessmen who've missed the last train, or stranded airline passengers, it's not surprising that they can be found at Narita and Haneda airports, as well as dotted around Tokyo's business and transport hubs, such as Kanda and Shinjuku. With overnight prices between 2,000 - 6,000 JPY, capsule hotels can be cheaper than very cheap hotels, if one doesn't mind having to check out and check in again each day!
But in spite of their appeal to backpackers and foreign tourists seeking a novelty experience, capsule hotels are a phenomenon that has lost some of its mystique in recent years, not least of all because the most famous example, the Nakagin Capsule Tower in Shimbashi, has fallen into disrepair and no longer operates. However, the building itself is still worth visiting if iconic post-war Japanese Metabolist architecture is your thing; in fact, it's a rare surviving example. But hurry; a campaign to preserve the building from its slated demolition may yet fail!
Love Hotels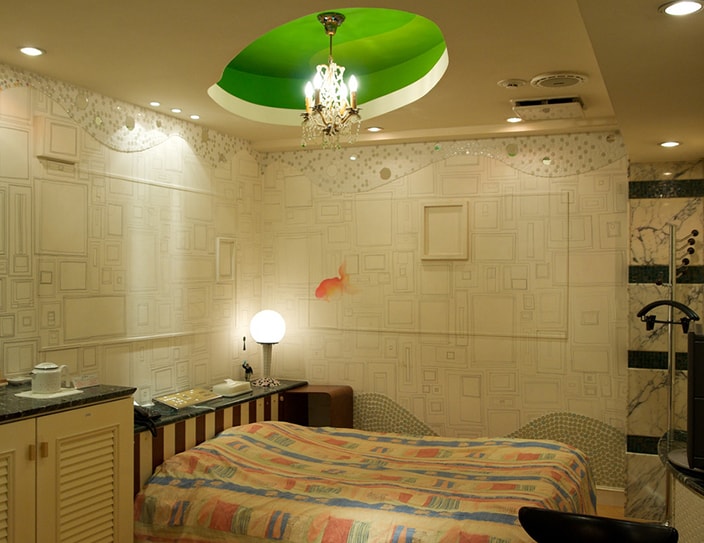 Another very Japanese novelty, in Western eyes, these short-stay hotels (usually 2 hours) are intended for couples seeking discrete romantic intimacy. Many have rooms that are individually, and gaudily themed, with outrageously kitsch decor, ornate showers and bathrooms, and uniquely styled double beds. Overnight stays are possible, though it might be like sleeping in someone else's erotic nightmare! Prices vary according to the quality of the rooms, their theme and how luxurious they are. However, a love hotel could be a novel place to take one's partner after a romantic stroll around Kabukicho! photo by anjuli_ayer

3. What are Public Conveniences Like in Tokyo?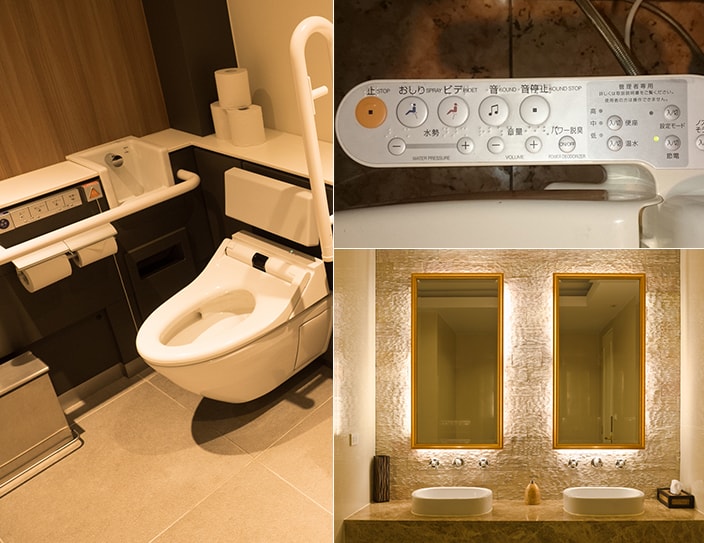 Visitors to Tokyo will soon notice how well-equipped and clean the facilities are, and this is generally the case throughout Japan. In the past, one had to search around to find a western style toilet, rather that the old-fashioned squatting type (don't ask!), but today most public conveniences feauture modern, sensor controlled shower toilets. With their shower and bidet functions and built-in dryers, toilet paper has become virtually obsolete, while the gently warmed seats in winter make the modern Japanese toilet an absolute joy to use!
Beautifully designed multi-purpose conveniences have proliferated too, offering easy wheelchair access, ostomate toilets with large, self-flushing sinks and warm water shower nozzles, fold-up baby changing tables, and handy baby-keepers so mum can keep both hands free when she needs to spend a penny. Here are just a few noteworthy examples:
Yurakucho Marui department store
Yurakucho Marui department store has one of the most beautifully designed rest rooms in the city and, unlike most in the Ginza area, it is free of charge! The nursing room can be found on the 5th floor and has a stylish and restful interior, complete with a variety of potted plants and dedicated background music. There are two fully equipped private rooms for nursing mothers, clothes changing facilities and, of course, advanced shower toilets.
Mitsukoshi Nihonbashi department store
Mitsukoshi Nihonbashi department store's toilets are also free of charge, offer multi-purpose facilities, including private rooms for nursing mothers, and can be found on every floor.
Shinjuku Takashimaya department store
Shinjuku Takashimaya department store's 13th floor restrooms offer not only clean and modern multi-purpose facilities, but a fantastic view of Shinjuku! Being also free of charge, and close to the bus terminal, it's a convenient place to freshen up before or after a long bus trip.

4. Are Japanese Signs and Rules Confusing?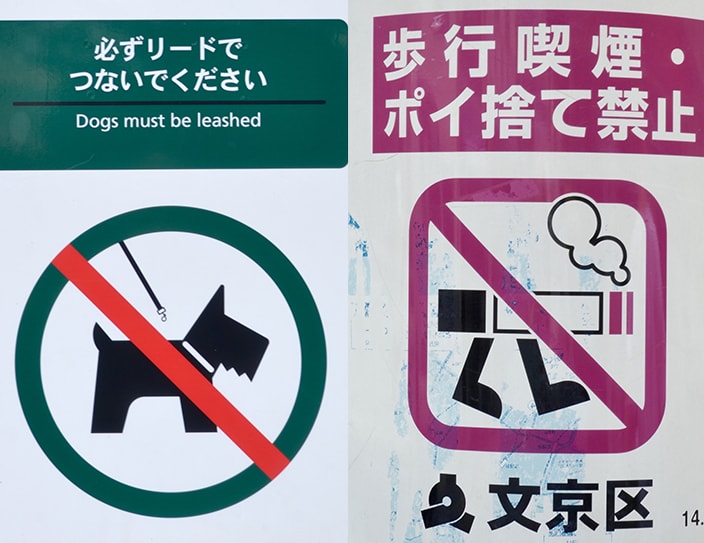 Generally, Japanese signs use the universal symbols familiar the world over, while others may be represented by cute, sometimes bizarre cartoons. Either way, the meaning is usually clear, even if the English is amusing to visitors. Probably the most common taboos in public places concern smoking, littering and tattoos.
If you smoke, always look for designated smoking points, but be aware that in some locations, a blanket ban and fines for breaking it may apply, so look out for no smoking signs printed on pavements.
As with most major cities in the world, you won't find many rubbish bins in Tokyo, so take your rubbish away with you! Rubbish is separated in Japan, so if you do find rubbish bins, be sure to put your waste into the correct receptacles; they are always clearly marked with symbols.
Visitors with tattoos should avoid situations where they may be visible, and this includes swimming pools, hot springs (onsen), public baths (sento) and some beaches. Tattoos are perceived as offensive in Japan, so look out for signs that prohibit their display.

5. Are Station Signs Easy to Follow?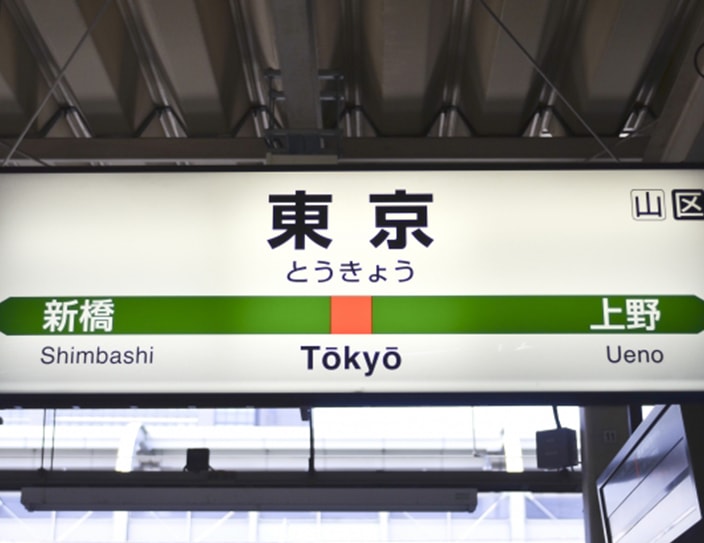 For a great many years now, station names have appeared in both Japanese and English, as have the platform/exit directions inside busy stations like Shinjuku and Tokyo. With the 2020 Olympics looming, signs and directions throughout the rail network are being updated further, so travelling by Metro, JR or private lines has never been easier for visitors. Even so, familiarise yourself with the Tokyo rail map, as found at all stations, or available in pocket form and mobile app. On it, JR lines (Japan Railways) appear in black and white, whereas metro lines appear in a variety of colours, and individual stations are circled and numbered. From this, it's easy to see where JR and metro lines interchange and plan your journeys accordingly.

6. Getting Around by Train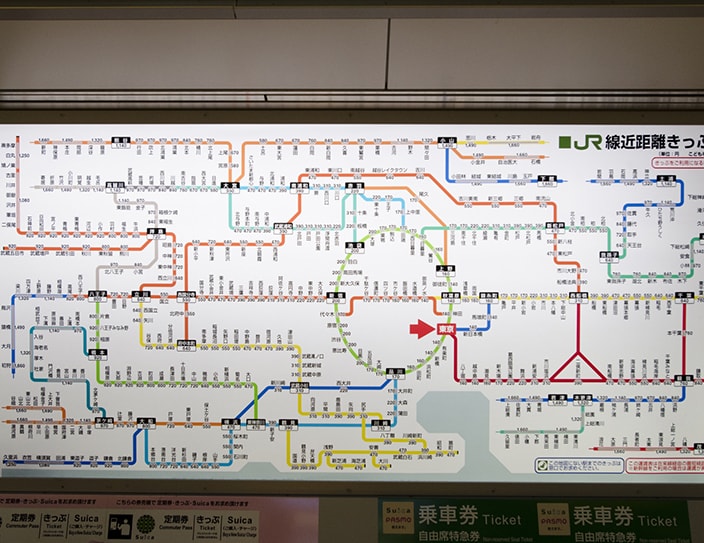 Many foreign visitors purchase a Japan Rail Pass ahead of their visit without realising that this won't allow them to travel on the many independent metro lines in Tokyo that require a separate ticket. Fortunately, getting around on Tokyo's trains is much easier when you can avoid queueing at ticket machines, so most people now use pre-charged SUICA or PASMO cards that you simply swipe on a sensor at the platform gate. You can use them on JR and Metro lines, and buses too, and top up the pre-paid value at any time using vending machines adjacent to regular ticket vendors. These cards can be used throughout Japan, so if you bought your card in Tokyo, you could also use it in Kyoto. What you cannot do is travel from one city to another on them. SUICA or PASMO cards may be purchased at any station main ticket office, or from vending machines at some stations.

7. Tips on Tokyo Train Etiquette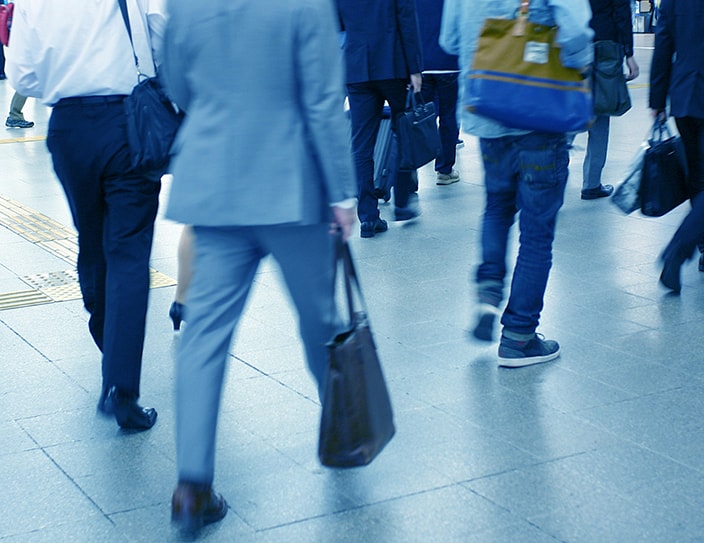 I would advise against travelling on Tokyo trains during morning or evening rush hour, unless you have no choice, in which case you may have to accept being 'crammed' into the carriage by station staff or people pushing behind you; you can't fight against it, so there's no use trying! Otherwise, the etiquette for riding trains is just common sense.
・In train carriages, look for the "Silver Seat" signs at the ends of each carriage; these indicate seats for people with disabilities or for nursing mothers, the elderly, etc., so avoid sitting in them.
・Always give up your seat for elderly people and pregnant women.
・Put your mobile phone into silent mode, and never talk on the phone in the carriage.

8.How to Enjoy Onsen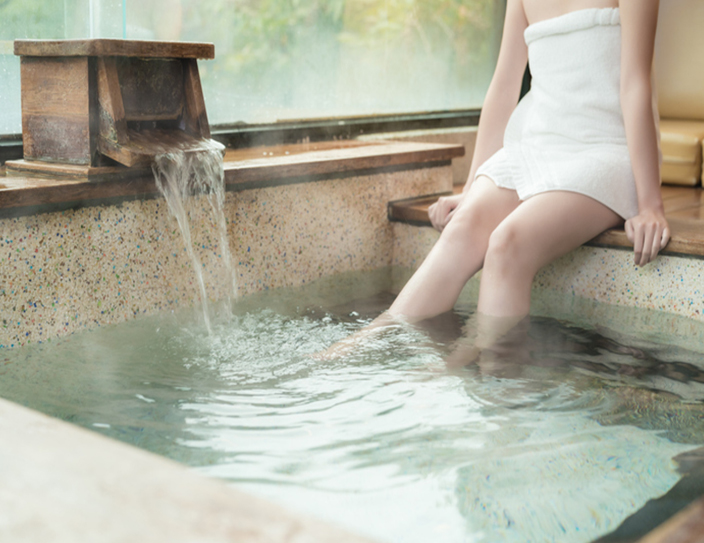 Hot spring bathing is such an important part of Japanese life and culture that all foreign visitors should experience it at least once. Fortunately, onsen etiquette is very simple and follows long-established steps:
■ On arriving at an onsen you will need to remove your shoes and put on slippers. If you have big feet, the provided slippers may be too small, but going barefoot is usually acceptable.
■ After paying, you will be directed to the changing rooms. Typically, onsen baths are segregated, so you should perhaps learn the kanji for men (男) and women (女) to avoid any embarrassment - yes, I am speaking from experience!
■ Changing rooms have lockers for your clothes and personal items, so strip off completely before heading into the bath house proper. There will probably be small hand towels provided, so take one of these with you.
■ In the bath house, first take a stool at the taps and/or showers and wash and rinse your body and hair thoroughly. Cleaning products are provided, but you can take your own if you prefer. It's really important not to carry any suds with you into the onsen bath, or on the small towel.
■ Now you can go to the onsen bath, using the small towel to cover your naughty bits! Get into the bath slowly, as it will be very hot, and leave the small towel neatly folded on the rim - never let it fall in the water! Now all you have to do is relax and enjoy the volcanically heated water.
■ If you need to go to the lavatory, rinse your body off at the taps after leaving the bath, and again before you return to it.
■ When you've finished soaking in the onsen, rinse your body off at the taps and head back to the changing rooms. Many onsen provide yukata (light cotton gowns) and delightfully themed rest areas where patrons can relax, cool off or meet up with spouses, etc. Some may offer other services, such as massage.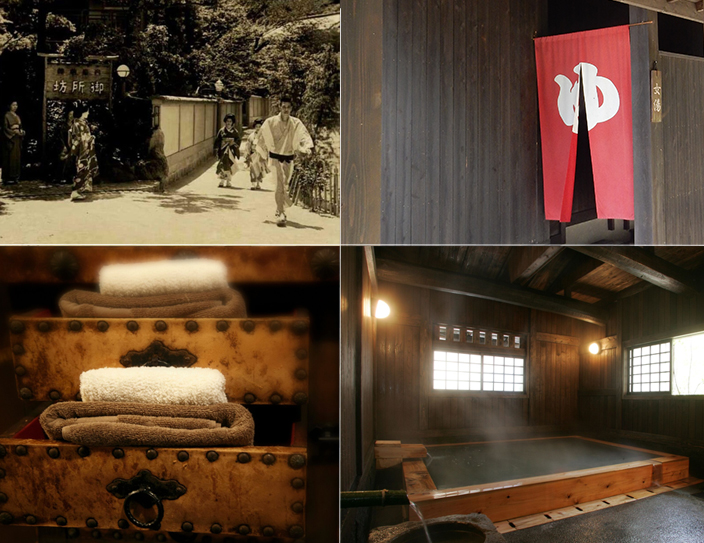 Onsen rules are few, but important to know:
■ Never deviate from the steps detailed above or specified by the onsen.
■ Onsen are considered to be a relaxing, restorative and curative experience, so swimming, splashing or rowdy behaviour is frowned upon.
■ Menstruating women are requested not to partake of onsen bathing.
■ Onsen water contains a special chemical that turns urine purple, so to avoid embarrassment, make sure the kids leave the bath to go to the toilet!
■ Tattoos and body art are not permitted.
I suspect many people may feel uncomfortable about getting naked with a bunch of strangers, even if they are all the same sex; I know I did when I first went to an onsen. But to their great credit, Japanese people never make fun of or comment on other people's physiques, nor will they stare, so it's actually quite easy to put inhibitions aside. In fact, it's both a liberating and humbling feeling.
But if you need moral support, go with a friend of the same sex, or do what many couples do and go with another couple so that both of you will have someone to enjoy bathing with.

In conclusion, I must say that it pays the intrepid traveller to plan well ahead when visiting Tokyo. Deciding what you want to do and where you want to go each day is the key to having the most enjoyable and memorable stay possible, so I hope my modest list of tips will help whet your appetite to visit to this exciting city.