Office closure for remote working
Office closure for remote working Dear Customers, We would like to announce that our London office is temporarily closing. We will commu ... ...read more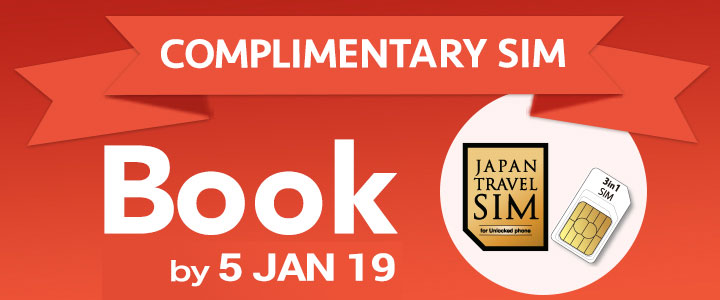 Book a Tailor-made Japan Rail Pass Plus Tour with us by 5th January 2019 and we'll include a COMPLIMENTARY Japan Data SIM-Card!
About our Data SIM-Cards
Japan Travel SIM is a prepaid SIM-card which can be used throughout Japan. This enables you to access high speed internet connection and avoid expensive data roaming charges. Activation and top-up are simple, as is topping up if you need more data. Coverage is excellent so you'll be able to get online wherever you are in Japan. We offer a multi-size SIM card which fits iPhones, Android and smartphones and other basic phones. English language customer service is also available. Having the SIM Card included in your package means you'll have ready-to-use data for when you arrive without any hassle.
Conditions
• Book with us by 5th January 2019
• Any Tailor made Japan Rail Pass plus Tour including flights plus accommodation
• SIM-Card is for Data only
• SIM-Card is initially valid for 30 days but can be extended with paid top-up
Eligible Tours
Japan Rail Pass plus Tour
https://www.japantravel-centre.com/tours/tailor_made_tours/jr_pass_plus_tour/

You can subscribe by our facebook.
Blog
CATEGORIES
Speak to our Japan Experts
Find your perfect Japan Holidays
by calling or send us an enquiry
020 7611 0150
5 out of 5
(169 Reviews)
30 Mar 2020

Newsletter Sign Up
Follow Us
©JAPAN TRAVEL CENTRE - Tailor your Japan travel by Japan specialist.