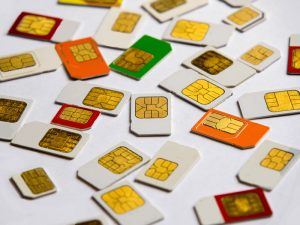 How to avoid expensive roaming data charges for tourist
During your visit to Japan, you will need to contact your family and friends, upload photos, use a map app and etc. However, using a standard UK mobile data plan in Japan, you are likely to receive a very high mobile roaming bill. Therefore, how does one use their smartphone without the worry?
SIM card for Japan
In Japan, the availability of free Wi-Fi services have gradually become widespread. Access to these services however, is still very limited. For example, many of the existing free Wi-Fi services are concentrated in urban city centres, making it difficult to access outside of these areas. Some services are also restricted, only allowing access for up to 8 days. As well as this, because many people may be using it, the internet speed of existing free Wi-Fi services is generally very slow.
The easiest, fastest and most reliable way to stay connected 24/7 in Japan is to use a SIM card. It is quick and easy to do, and only requires you to have an unlocked phone – which you can request from your network operator beforehand. Once you've done this, you can switch you SIM card, adjust your APN settings in minutes, reboot your phone and complete user registration. That's it! You'll be able to access the internet throughout Japan.
Roaming charges using a UK SIM in Japan
With a UK SIM card, calls and texts can be used as normal as with the UK and European zone. However, using a UK SIM in Japan, it is likely that you will incur high roaming charges.
A UK SIM vs. a Japan SIM
Below is a price comparison for data between using a UK SIM vs a Japan SIM. The roaming costs for Japan with UK SIMs are much higher than Japan SIM.
UK Network Operator Roaming costs for Japan (As of october 2019)
UK Network Operators' roaming overseas plan
JAPAN SIM
Network Operator
O2
EE
IIJ
Name
O2 Travel Bolt On
Travel Data Pass
Japan Travel SIM
Price
£4.99/day
£6/day
1.5GB/£25/30 days
3GB/£35/30 days
Data Volume
Unlimited data
150MB for 24 hours
1.5GB
3GB/30 days
Data speed limitation
It'll slow down
after you've used 150MB
No limitation
No limitation
If use for 30 days,
the cost is
£149.70
£180.00
1.5GB/£25
3GB/£35
How to avoid the roaming charges
Japan SIM enables you to stay connected whilst in Japan and offers great value for money and the avoidance of expensive roaming charges.
For a fixed upfront cost, you can get 1.5GB or 3GB of data access for 30 days valid across the whole of Japan, with the option to top up if needs be.
Benefits of buying a Japan SIM Card in the UK
You can purchase Japan SIM in the UK and other European countries; allowing immediate use of data services as soon as you arrive into Japan, saving you the inconvenience of shopping around after a long flight.
Recommend Japan SIM Card: Japan Travel SIM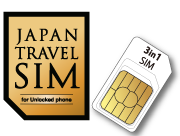 Japan Travel SIM offers a simple and convenient way to stay connected whilst in Japan, and importantly offers great value for money and the avoidance of expensive roaming charges. For a fixed upfront cost, you can get 1.5GB or 3GB of data access for 30 days valid across the whole of Japan, with the option to top up if needs be. Award winning MVNO IIJ offers Japan Travel SIM. You will stay connected with Japan Travel SIM hassle free.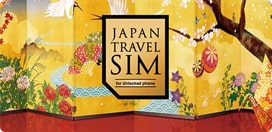 Japan SIM cards for tourists
Q

Where can I buy a Japan SIM card in the UK

A Japan Travel Centre: Order Japan Travel SIM Now


Q

How do I activate a Japan SIM card?

ATo activate your Japan Travel SIM, set the APN settings as instructed in the enclosed manual followed by a reboot of your device. Visit https://tr.iijmio.jp/login/ to register your details and your desired start date. *You can complete user registration before traveling.
Q

Top up available?

A Yes, data top up can be performed during the SIM activation period.
For further information please visit https://tr.iijmio.jp/howtorecharge/
Q

Customer support in Japan?

AIIJ Support Center is available year-round(9:00-19:00 JST)TEL. 03-5205-4999
If you can not make a call please email Japan Travel Centre at [email protected]
Q

How can I check the remaining amount of data?

APlease go to https://tr.iijmio.jp/
go to My Usage > Log in with Passcode1/Passcode2 printed on your SIM card and you will find the remaining amout of data.
Customer reviews
"I could easily set up for activation following the manual. I went to a counry side and the network was 3G but the internet connection was not slow at all. I purchased a 3GB package and stayed in Japan for two weeks. I mainly used my data for messaging and Skype and at the end of my trip I was left with 2GB remaining."
"I used to rent a portable Wi-Fi router but I thought SIM card was the best way to stay connected in Japan in terms of costs and convenience. I normally use 2GB monthly in the UK and purchased a 3GB package so I did not need to care about data usage."