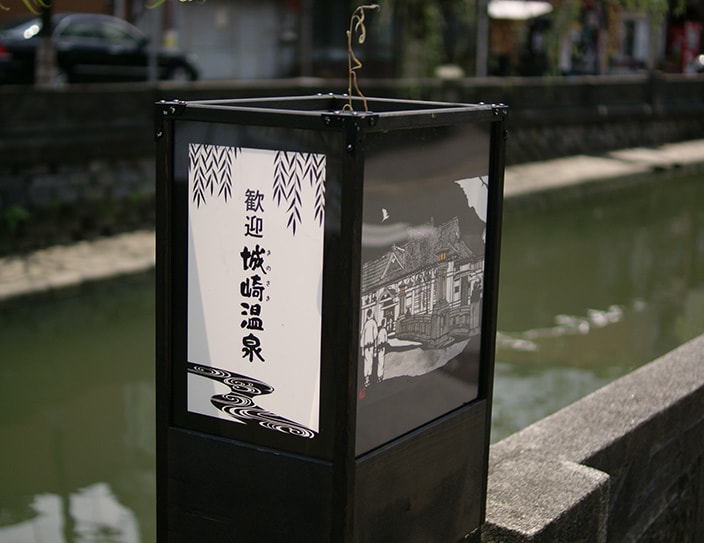 Nishimuraya Honkan: an inn the heart of which beats with the hospitality of an old and great Japan.
To reach Kansai's famous hot spring 'Kinosaki onsen' takes around 2 and a half hours by train from Kyoto or 3 hours from Osaka. Hot springs have a long history in the area, having existed since the year 1400. This is a town alive, from under the stone bridge or beside the river that runs through it, with the sound of geta (Japanese sandals) clacking as people stroll around in their yukata (a type of light cotton kimono often worn when staying at a ryokan). In Kinosaki, the town which feels like a single resort, yukata and geta naturally seem like the appropriate choice of clothing. Naoya Shiga a famous Japanese novelist writer of 'At Cape Kinosaki' inspired many other writers to visit Kinosaki, representing it as a special place that gives peace and inspiration to its visitors.
Nishimuraya Honkan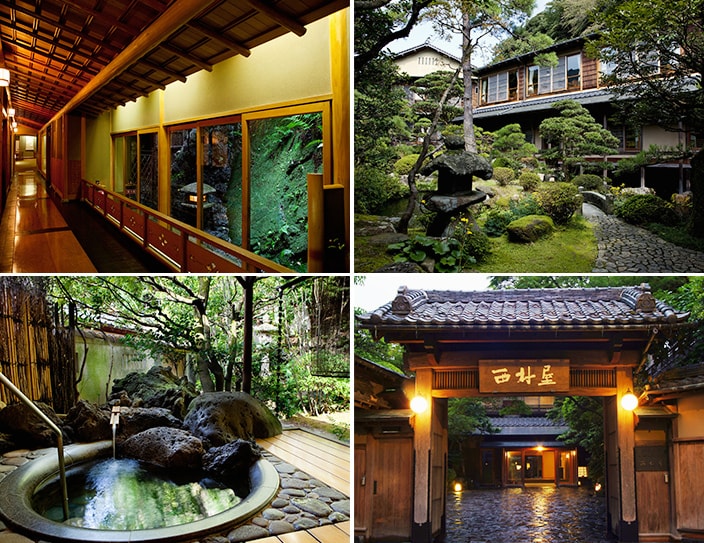 Within the centre of this lovely onsen town lies Nishimuraya Honkan, a Japanese-style inn or ryokan. The 150 years of tradition that have passed since its construction are immediately felt after passing through its gates where guests will be welcomed by a fragrant smell . Among the greatest things in the West of Japan (the San'in area) is the 'Nishimuraya Honkan' which feels distinctly Japanese and a place where you can be completely submerged in a state of Japanese luxury and tranquillity.
Upon arrival and facing out over the garden from the guest rooms, admiring the lake, the first thing you should do is have a sip of tea. After, changing into the dress of this town, the yukata, you will surely feel as though you have transformed into a resident of Kinosaki. Even though it is common in Kinosaki Onsen to visit other baths open to the public, Nishimuraya Honkan is a rare case where its own large bath and outdoor bath facilities are more than sufficient.
Sotoyu, Visiting the Baths around Town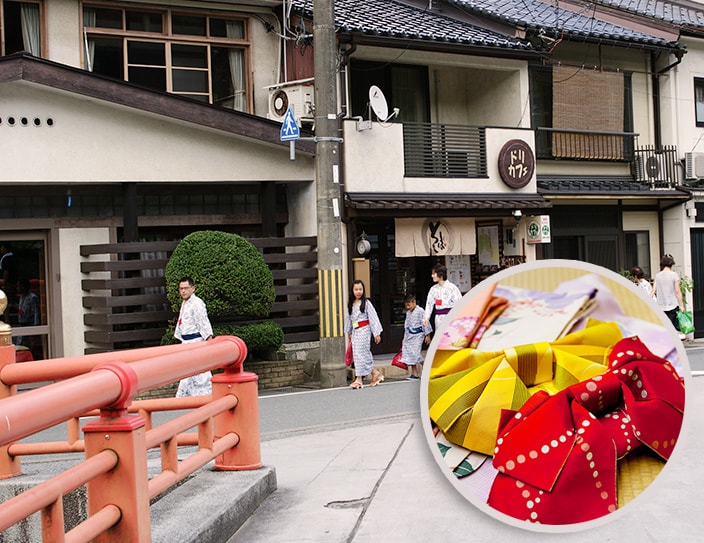 One of the ways to explore Kinosaki onsen is to stroll around in yukata visiting other baths ('soto' meaning literally, outside, and 'yu' meaning hot water). There are 7 public baths in Kinosaki: 'Ichi no yu', 'Sato no yu', 'Gosho no yu', 'Mandara yu, 'Jizo yu', 'Kouno yu' and 'Yanagi yu'. Each of these hot springs has its own origin and legend, giving them a rich sense of history. Guests of Nishimuraya Honkan can enter as many of these hot springs as they like, free of charge. People that are wearing yukatas but are worried that if they take them off they won't get them back on again don't need to worry. At these 'sotoyu' there are always staff on hand that can help guests put their yukata back on, and the people of the town treat all guests like a member of the family.
Close to Sea of Japan: A Taste of Pure Bliss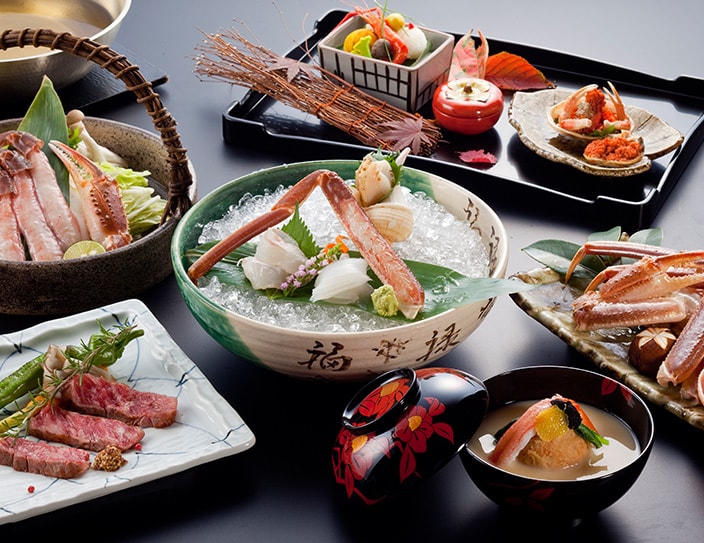 Once you have bathed to your satisfaction, you can then enjoy fabulous traditional Japanese cuisine (known as kaiseki) using local produce and seasonal ingredients. The highlight of this is Tajima beef. It is said that the now famous wagyu beef brands of Kobe, Matsuzaka and Omi were actually bred from this cow. The taste of this magnificent beef, raised in the Japanese countryside spreads easily across the tongue. The Matsuba Crab, the so-called 'King of the Taste of Winter' is also waiting for guests to enjoy (available from the 7th November to the 3rd of March). Even in winter, Kinosaki is full of beautiful food. Furthermore, the sake, brewed in the harsh winter climate has a rich aroma and a dream-like flavour.
The Bustling Evening Mood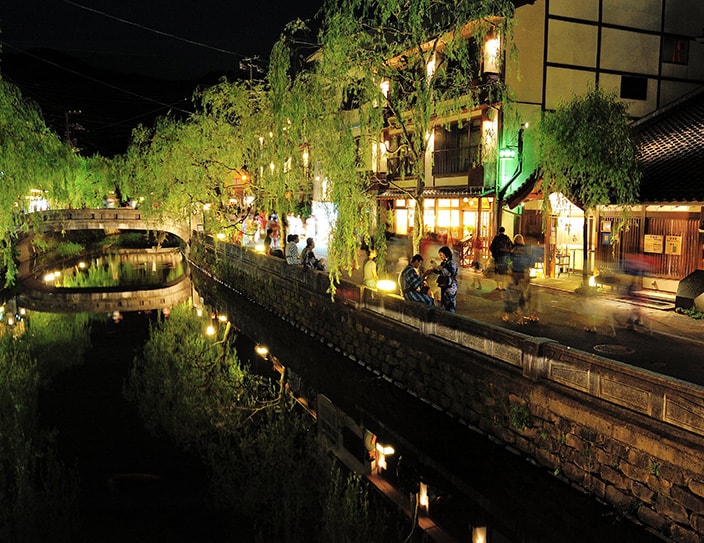 After the sun sets, Kinosaki onsen shows its romantic side, quite different from the daytime. In the centre of the town bathed in the warm orange glow of lanterns, people in yukata come and go. As this magical scene unfolds, it is easy to forget that you are in Japan in the modern age. After the day ends and contented, you decide to turn in, Nishimuraya Honkan feels as if it has always been your home. The warm hospitable people of this ryokan will mean whenever you decide to come back here, you will be able to simply say 'I'm home'.
469 Yushima Kinosaki, Toyooka City, Hyogo 669-6101 Japan