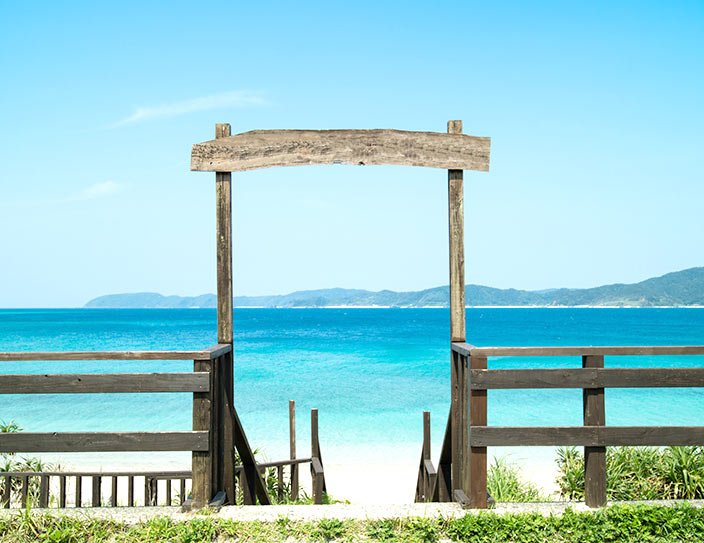 Summer is the season for sun, sea, and sand. While Japan may not be the first destination to come to mind for a beach holiday, the southern reaches of the Japanese archipelago actually boast some amazing seaside spots. For your next holiday, why not consider the Amami Islands? The Amami Islands are a chain of eight inhabited islands in Kagoshima Prefecture, located south of the island of Kyushu. These islands are blessed with coral reefs in the surrounding clear waters, a diverse range of beaches dotting the islands' circumference, mangroves, virgin forests, and a unique cultural heritage that is a blend of both mainland Japanese culture and that of the Ryukyu Kingdom in Okinawa. Known as the Galapagos of the East due to its high proportions of endemic and endangered species of flora and fauna, the archipelago forms the Amami-Gunto Quasi-National Park, and together with the northern part of Okinawa, the Amami Islands are on the tentative list awaiting designation as a natural property of UNESCO World Heritage Sites (as of October 2016).
This article will focus on Amami Oshima, the largest of the Amami Islands.

When to go
With a humid subtropical climate, Amami Oshima experiences warm summers and mild winters. Like the rest of the country, rainy season lasts from May till June, and they experience frequent typhoons between late summer and autumn. Summer is peak season for a reason, but in winter the seas are even more crystalline, and the venomous habu pit vipers are in hibernation. For all you runners out there, they also hold their annual Sakura "Marathon" in early spring. When the weather behaves you can run distances from a 5K to a half marathon while enjoying one of the earliest cherry blossom seasons in Japan.

Getting here and around
Amami Oshima can be reached by air from many major airports in Japan – Kagoshima, Haneda, Narita, Itami (Osaka), Fukuoka, and Okinawa. Ferries arrive from ports in Kagoshima, Okinawa, Osaka and Kobe. Flying from Kagoshima Airport, the Japan Air Commuter (JAC) propeller plane can be an interesting ride if you have only taken jet planes before. Also, the view of the turquoise sea from above as you approach the island is a worthy sight. The ferry departs from Kagoshima City in the early evening and arrives in Naze on Amami Oshima very early in the morning. If you can sleep on ferries, you can arrive of the island rested and ready to go! Once everything opens, of course, but you should be able to catch a sunrise while you wait.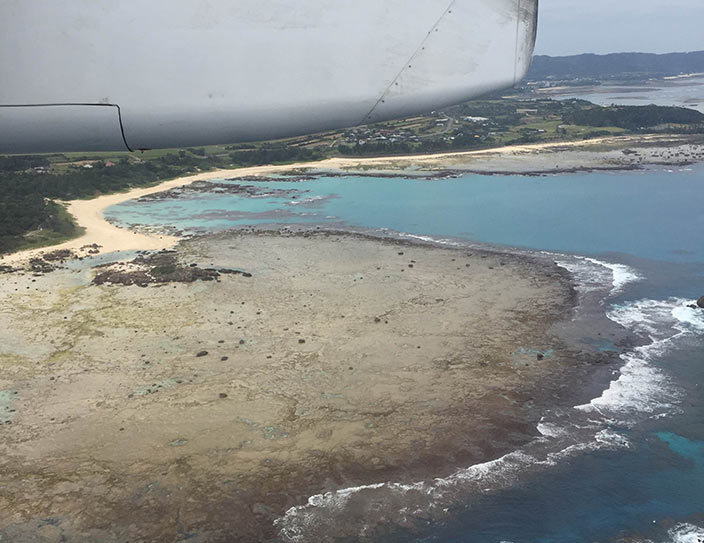 On the island, the shuttle bus from the airport to Naze in Amami City is timed to coincide with plane arrivals, but bus services around the rest of the island are few and far between. Hiring a car is therefore recommended. There are few traffic lights on the island, making for a breezy drive.
Things to see and do
Mangrove forest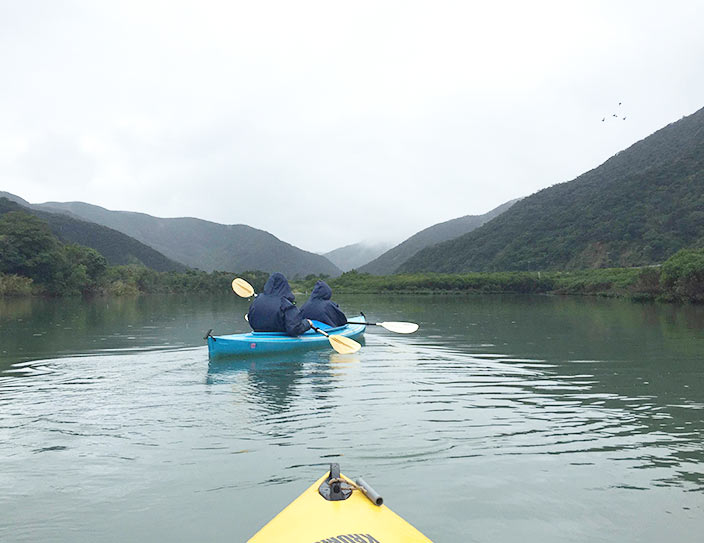 Amami Oshima's unique ecosystems and biodiversity are the main reasons for its inclusion on the tentative list of the UNESCO World Heritage Sites. Located at the mouth of Sumiyo River, Kuroshio no Mori Mangrove Park is the second largest mangrove forest in Japan, and one can explore its many facets by kayaking through the open river and into a tunnel of gnarled trees. Paddling the shallow river at low tide offers a close-up view of the tree roots and lifeforms that call the delta home.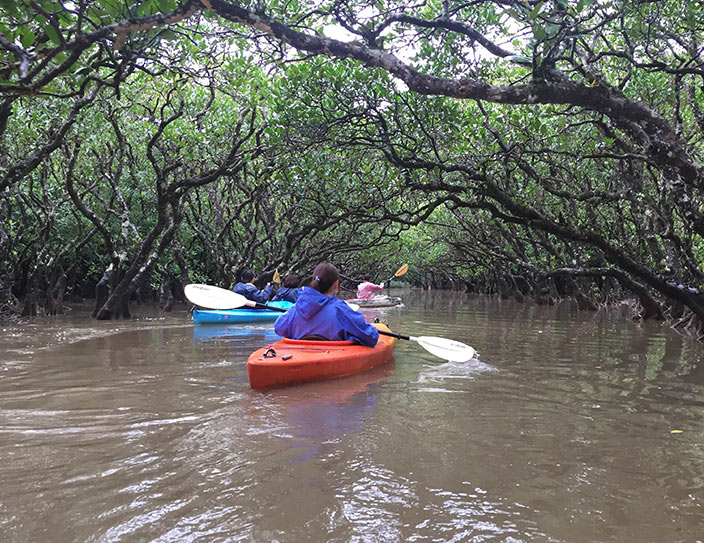 In July, night-time kayaking tours are organised to view the flowering of a species of plant known as barringtonia. The white to pink fluffy flowers bloom at dusk and fall to the surface of the water by dawn, making for an ethereal, magical sight.
Primeval forest
At Kinsakubaru Virgin Forest, flying spider-monkey tree ferns tower overhead like giant parasols and broad-leaf elephant ear plants, the inspiration for the leaf-umbrella carried by Totoro in the movie "My Neighbor Totoro" by Studio Ghibli, can be found. The species of flying spider-monkey tree ferns has retained the same form from 300 million years ago, and walking through the ancient woodland, one can easily imagine dinosaurs lurking in its depths. In fact, Kinsakubaru Virgin Forest was the filming location for the "Godzilla vs. SpaceGodzilla" movie!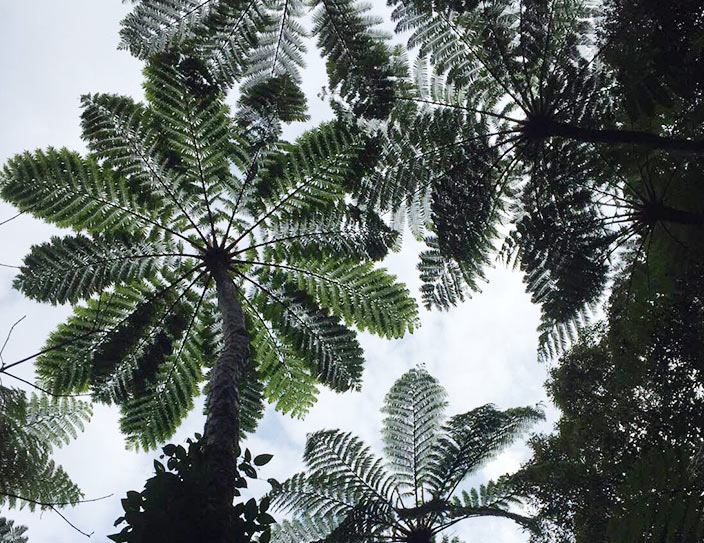 While there are no dinosaurs in the forests of Amami Oshima, the endangered Amami black rabbit is one of the most primitive species of rabbit alive today. One may join night tours to look for the bunnies, native spotted frogs and other nocturnal animals. Bird-watching is another popular activity on Amami Oshima. Many endangered and threatened bird species can be found on the island; among them is the prefectural bird, Lidth's Jay, a bird with blue and red plumage.
The island is also home to the habu pit viper. As even one bite can be fatal, locals do not venture unnecessarily into the forests and avoid tall grasses. Therefore, it is recommended to hire a guide for forest tours.
Sea activities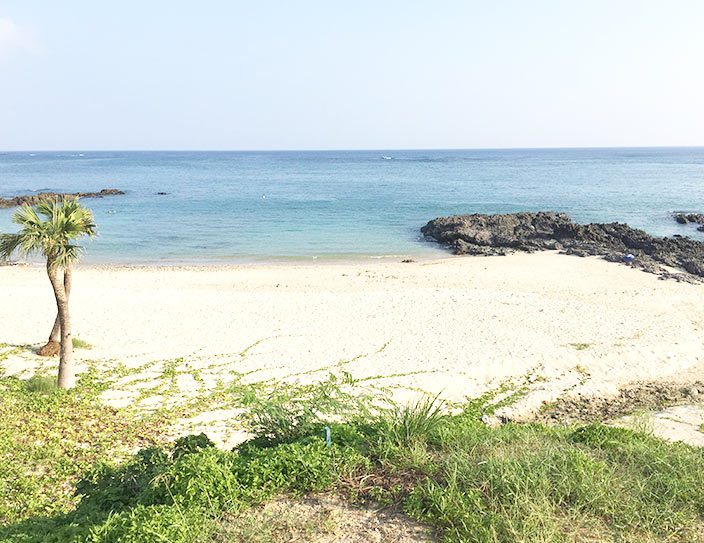 There are plenty of beaches all around Amami Oshima. You can practically pull up by a bit of sand, and it will become your very own private beach for the moment. Notable beaches include: Tomori Beach, a few minutes north of the airport with a wide stretch of soft sand; secluded Sakibaru Beach on the other side of the island; and Ohama Seaside Park, conveniently close to Naze and full of pretty seashells and coral.
Besides sandy beaches, there is also a pebble beach near the south-eastern tip of Amami Oshima. Located at the entrance of a rugged bay facing the Pacific Ocean, huge swells crash down on Honohoshi Beach and a symphony of jangles and hisses accompany each retreat. It is a sublime sensory spectacle of the might of the ocean.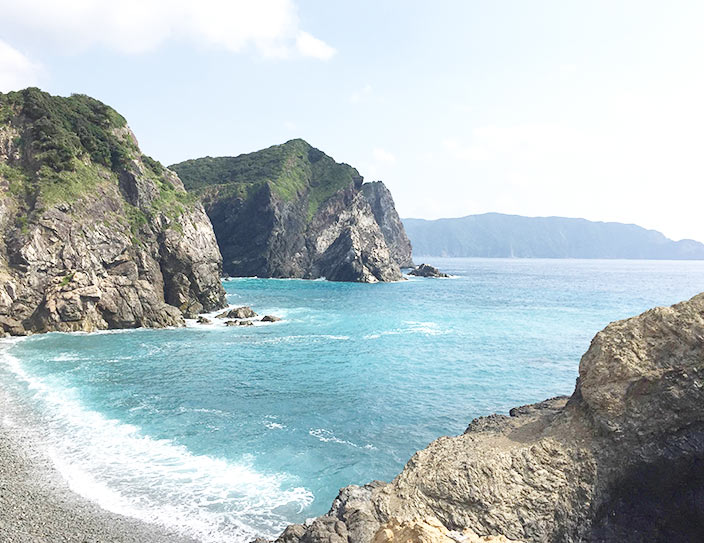 Right beside Ohama Beach is Amami Aquarium, a cosy yet outstanding facility with a tank of turtles and other marine creatures kept for eventual release into the sea. The turtles will swim towards visitors as if in welcome, and swim beside them as they climb up the stairs. This is because the intelligent animals know the routine – visitors get to touch and feed them with cabbage!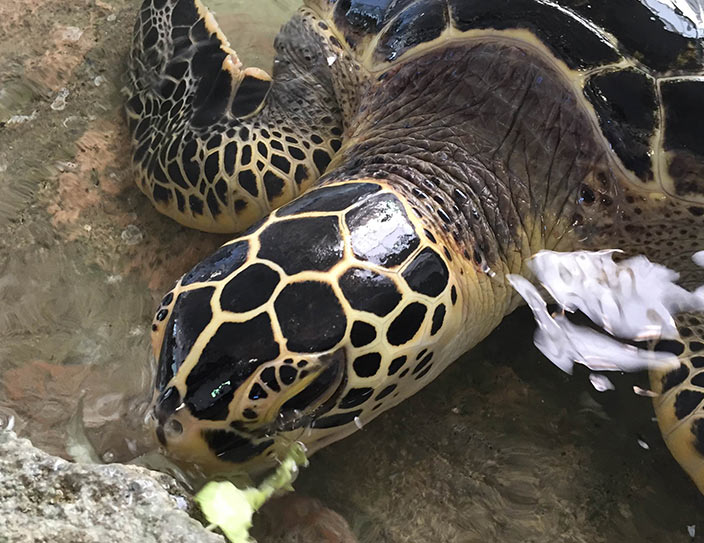 Besides swimming in the shallows, many sea sports are available at Amami Oshima – sea kayaking tours to uninhabited islands, surfing, stand up paddleboarding (SUP), snorkelling, and diving. KAZBO Surf and SUP at Yoan Beach offers tours in English. A cross between kayaking and surfing, SUP allows one to paddle while standing up, kneeling, or seated, and it is pure luxury to just lie down on the board in the middle of the bay (or calm open sea, location subject to sea conditions and ability), floating lazily with the waves lapping softly all around.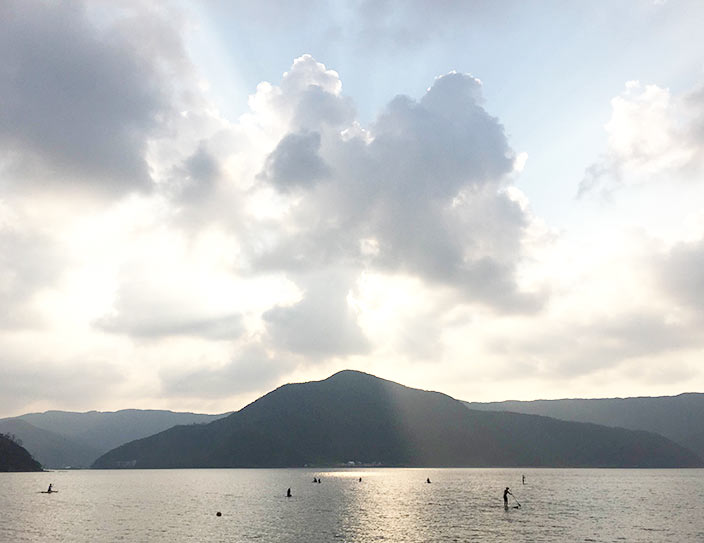 While Amami Oshima has a rich ecosystem on land, its underwater ecosystem is equally diverse. The Kuroshio Current brings warm tropical water from the south, sustaining the world's northernmost coral reefs. If the weather is not conducive for diving and snorkelling, underwater viewing boats can be used by those who still want to observe marine life. Coral reefs, shoals of fishes, starfishes, crabs, and tiny shrimps in the crooks between the concrete slabs of walls right at the pier – the boat trip gives a taster experience of the charms of clear blue sea. Turtles, schools of tuna and sea slugs also make an appearance depending on the season. And then there are the mysterious underwater crop circles, first found in these seas about a decade ago. Made by small male puffer fishes as a courtship display, the ridges and shell ornaments of the geometric nest also serve to alleviate the force of currents and provide nutrients for the eggs.

Culture
Of course, Amami Oshima is not just about its nature. Originally belonging to the Ryukyu Kingdom (present day Okinawa) before it was ceded to the Satsuma Domain (present day Kagoshima) in the early 17th century, its culture reflects a mix of mainland Japan and Ryukyu Kingdom. A stone's throw away from the airport, Amami Park, comprising Amami no Sato and Isson Tanaka Memorial Museum of Art, is a good starting point. It introduces the nature, history and culture of the Amami Islands as well as the works of Isson Tanaka, who lived in Amami Oshima in his later life and painted scenes of the idyllic island.

Land activities
Besides water sports, leisure activities abound onshore at Amami Oshima. At Oshima Tsumugi Village, on top of viewing the entire production process of Oshima Tsumugi silk fabric, Amami Oshima's most renowned product, one can also experience mud-dyeing your own original handkerchief or T-shirt, or weaving a segment of Oshima Tsumugi silk fabric. There are also places where you can make accessories using mother-of-pearl, sea glass, etc. For a truly indulgent experience, Thalasso AMAMI no RYUGU is a seaside thalassotherapy spa where you can soak in warm seawater, enjoy a full-body seaweed mask, indulge in Turkish baths, and more.
Local cuisine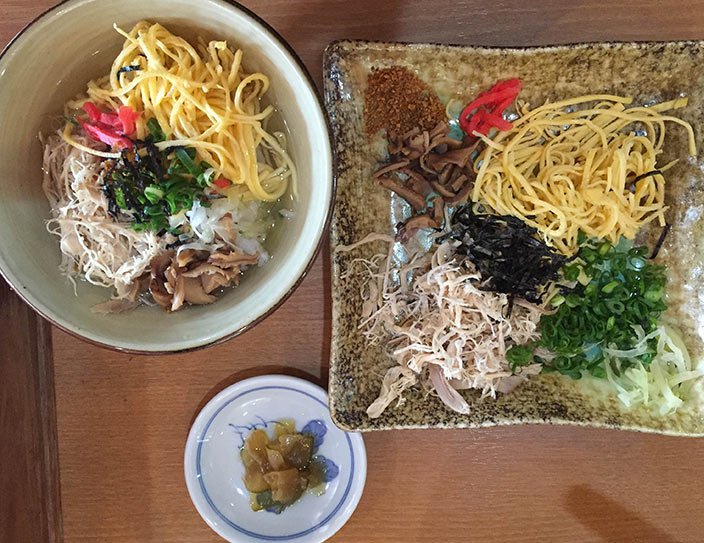 Amami Oshima's most famous local dish is keihan, chicken rice. This is a rice bowl onto which you add ingredients such as thinly sliced strips of egg, chicken meat, seaweed, pickled papaya, mushroom, orange zest. You then pour over a simple, but delicious chicken stock. Comfort food at its finest! Simple and warm, this dish tastes nostalgic even when you are eating it for the first time!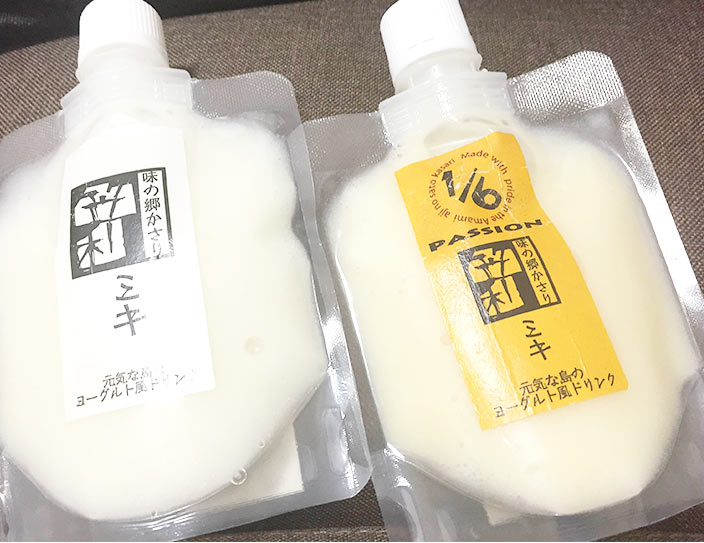 Another must-try is the local beverage miki, a nutritious drink fermented from rice, sugar and sweet potatoes. Its thick, creamy texture falls somewhere between a smoothie and congee (rice porridge), and it tastes like a mix of yogurt and amazake (a sweet drink made from fermented rice). Miki is also available in local flavours like passion fruit and brown sugar.
The island's major agricultural products are brown sugar made from sugarcane and various fruits like passion fruit and citruses. Many processed products are in turn made from these ingredients. Natural brown sugar cubes make for a sweet snack, and kokuto-jochu, brown sugar liquor is a smooth, milder version of the sweet potato variety made on mainland Kagoshima. Juices (available in most restaurants and in packaged form in shops), gelato (La Fonte in Tatsugo Town, Gelateria CASTANO in Setouchi Town), and jams make full use of the fresh local fruits. There are restaurants on Yanigawa Street in Naze where you can enjoy live performances of the local traditional genre of songs shima-uta (island song), which employs a distinctive style of singing and falsetto.

Land activities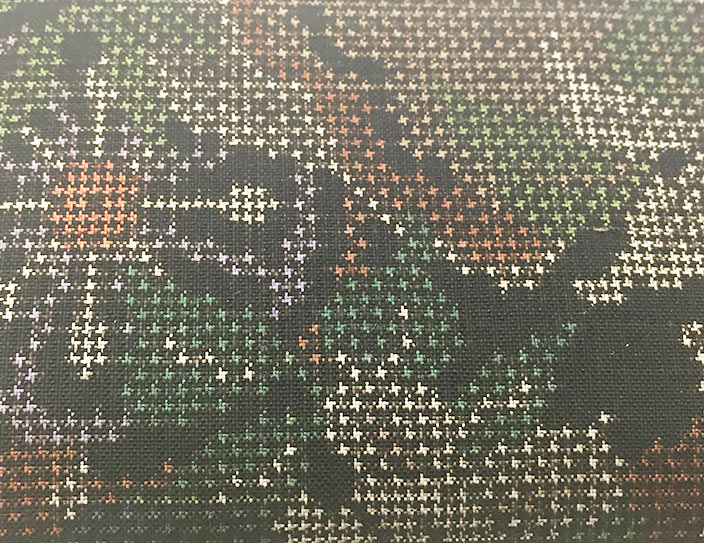 Mentioned briefly above, the Japanese equivalent of Harris Tweed, Oshima Tsumugi silk is light, wrinkle-free, and extremely durable. A premium, quality-certified fabric produced only in this region, authentic Oshima Tsumugi silk boasts a long history spanning thirteen hundred years and still employs the traditional, laborious production process. The silk threads are meticulously measured and segments blocked out, then hand-dyed in the liquid extract of Japanese hawthorn up to 80 times and in mud up to 5 times for a deep coloration. The weavers, mostly elderly ladies now, must carefully align the warp and weft threads for the resulting tiny crosses that make the overall pattern and each fabric can take up to six months to complete. Kimonos can be forbiddingly expensive, but why not bring back a necktie, a scarf, or even a pair of earrings for a special someone?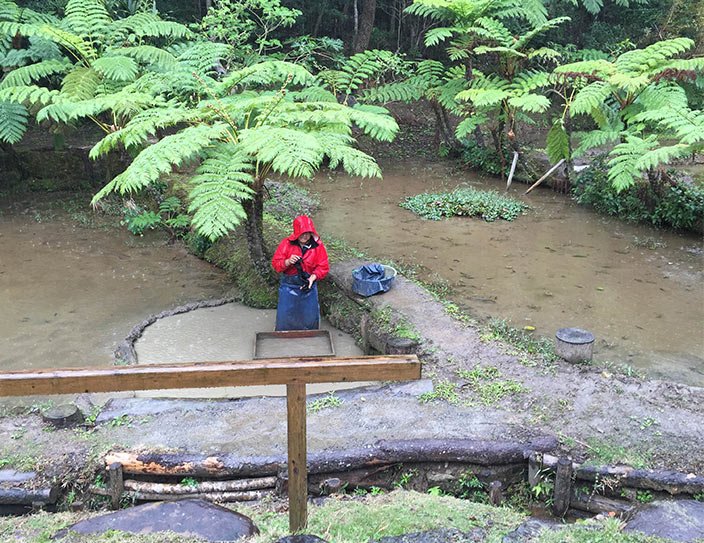 Side trips
Other islands in the Amami archipelago worth visiting are Yoron Island for its ephemeral Yurigahama Beach that appears only at low tide, and Okinoerabu Island for caving and spelunking in its limestone caves.

In the next article I will delve into the beauty of Yakushima, arguably Kagoshima's most famous offshore island, a UNESCO world heritage site also known for being the setting of Studio Ghibli's animation movie "Princess Mononoke". Stay tuned!